You Can Live Longer By Flying High
Einstein was right… higher you live, faster you age! Crazy as it may sound, it is true and backed up with some solid evidence. It's not the fountain of youth though, but close to it. Read on…
The true nature of Albert Einstein's theory that time is a relative concept and the higher you live above sea level, the faster you should age, has been demonstrated with the world's most accurate clock for the first time. Experts found that time really does run more quickly the higher you are – just as Einstein predicted.
They monitored two atomic clocks positioned just a foot apart in height above sea level. Einstein had proposed 100 years ago in his theory of relativity that time and space are not as constant as everyday life would suggest.
He suggested that the only true constant, the speed of light, meant that time can run faster or slower depending on how high you are, and how fast you are travelling. James Chin-Wen Chou and his colleagues from the US National Institute of Standards and Technology in Boulder, Colorado, conducted the study.
"These precise clocks reveal the effects of gravitational pull, so if we position one clock closer to a planet, you also increase the gravitational pull and time actually runs slower than for another, similar clock positioned higher up," Chou said.
"No one has seen such effects before with clocks which is why we wanted to see if these effects are there. We would say our results agree with Einstein's theory – we weren't expecting any discrepancies and we didn't find any," the newspaper quoted him as saying. Source: Phenomenica
 Some Weird Aspects Of Special Relativity Explained
 Are you relativity curious? What I mean is, do you find yourself fascinated by the unusual predictions of this theory and would like to get to the bottom of it once and for all? Although relativity Is not the simplest of subjects, there are some very simple explanations for parts of it. This is particularly true of special relativity theory.
I'm going to try to give an intuitive and informal explanation of why time slows down when you're observing something traveling at extreme speeds (near the speed of light). That is, why an object seems to age slowly when it moves at very high speeds.
You will be required to accept without question that the speed of light is constant (it's an experimental fact) and that all reference frames (that move at a constant speed) are equally valid points of view. The explanations that follow rest entirely on these two conditions.
Since my lens title is brief, it implies that you'll get a thorough explanation of relativity. Unfortunately, that's asking too much of a single web page. I hope that the super left-brained types don't get too frustrated with my relaxed language. Don't blow any logic circuits over this! I am not trying to write a physics text here.
I've tested this explanation on my non-geek brother and he got it right away.
Why relativity seems so bizarre
Our brains are wired for survival purposes for a 3 dimensional and very slow moving environment. Compared to the speed of light, the everyday objects that our brains perceive and reason about are barely moving at all. Our common sense about how the world works is specialized for dealing with an almost non-moving or static environment (again, that's compared to the speed of light).
What this means, is that what our common sense tells us about our sluggish everyday world is mostly correct but otherwise it's judgements cannot be trusted when dealing with extremely fast things.
So when experiments and mathematics tell us things that are contrary to our crude perceptions about how things should work, we find it to be totally bizarre!
The speed of light…a 19′th century enigma
Our everyday common sense tells us that if while standing on a moving barge we hit a golf ball off the front, the speed of the barge adds to the speed of the golf ball. If we were to shine a flashlight in the same direction as we had hit the ball we would find that the speed of the barge does not add to the speed of the light beam. Its speed would be the same as if the barge were not moving at all.
The best minds of the 19′th century were stumped by this fact because it totally violated a very basic and seemingly self evident notion of how things are supposed to work.
In 1905, Einstien explained that this was simply the way that light behaved and that it only seemed strange because our common sense notions of how relative speeds were supposed to add up were only true for very slow moving objects (as compared to the speed of light).
Interestingly, the theory of electromagnetism, developed in the 19′th century by James Clerk Maxwell, also predicted this fact that the speed of light was unaffected by the speed of its source.
Note: In this explanation I'm trying to avoid excessive 'relative to this, relative to that' verbiage. Unfortunately, this can leave things somewhat vague. In the golf ball example above, to someone watching from the shore, the golf ball appears to move at a speed equal to the speed of the barge plus the speed of the ball relative to the barge. Our common sense says that this should be true regardless of how fast the ball leaves the barge. However, this doesn't hold up if we do the same experiment with a beam of light.
Why time slows down
So the speed of light is unaffected by the speed of its source. Let's see what falls out of this…
Imagine having two horizontal mirrors facing each other and that one mirror is spaced above the other by the distance d. Also imagine that there is a pulse of light that bounces vertically between the two mirrors as shown in the left part of the drawing below.
The time it takes for the pulse of light to do a round trip (from the top mirror to the bottom mirror and back to the top) is twice the distance d divided by the speed of light. This device would actually make a great clock since the pulse can be relied on to always travel at the same speed while doing its round trips and thus always counting out consistent time intervals.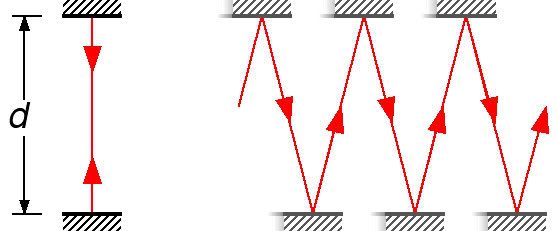 Suppose our "light clock" were traveling sideways at a very high (but constant) speed. Now the pulse would follow the "saw tooth" path shown on the right side of the drawing. The light must travel a greater distance now to make a round trip. Since its speed is the same as before (remember, the speed of light is not changed by the speed of its source), it will take longer to make a round trip.
So our "light clock" takes longer to count out its intervals. Another way of saying this is that the clock "ticks" more slowly.
Note that if the speed of light were not constant, the horizontal speed of the clock would have added to the speed of the pulse. Then, the light clock would not have slowed down since the pulse's greater speed would have compensated for the longer distance of the "saw tooth" path.
Stifle that yawn. This result has great significance as I will explain in the next section.
The "Relative" Part Of Relativity
Suppose you are the person who is taking this photo and the other guy seems to be drifting toward you. Are you moving toward him or is he moving toward you? The answer is yes to both questions. From each person's point of view, he is stationary, and the other guy is moving. Relativity states that everyone's frame of reference is valid. The observations that you make from your frame of reference is just as valid as those made by some one else on a different reference frame.
Now, back to the light clock… It's very feasible to hook up the light clock to an LED display that reads out seconds, minutes, and hours. Now lets say you choose a frame of reference that's "stationary." That way you get a clock that's keeping time "properly" (don't want a slow running clock, thank you very much!) So your light clock is behaving like the one on the left side of the drawing above.
But as always, someone comes along (at an extremely fast speed) to spoil your day. From his point of view, you're the guy that's moving, not him. From his equally valid point of view, your light clock is behaving like the one on the right side of the drawing above. And of course, to him your clock is counting out its intervals very slowly and your LED is counting out those seconds, minutes, and hours way too slow.
Since you're stationary relative to your clock, it's working just fine as far as you are concerned. Now you try to tell him this and you speak at a normal rate (about 4 words/second by your clock). To him you are speaking 4 words/second relative to your very very slow clock. You sound like an old fashion phonograph record that is set to a very slow speed.
And of course since he is moving relative to you, his speech sounds equally slow.
This effect is called time dilation.
Time dilation is present even at the slow speeds that we are used to. But it's so tiny that our senses can't detect it. 60 miles/hour or even 3000 miles/hour is too slow compared to the speed of light at 186,000 miles/second or 669,600,000 miles/hour. At 60 miles/hour the triangles in the drawing above would have such a tiny base that they wouldn't look any different from the vertical photon path of the stationary clock. So the stationary clock and the 60 miles/hour clock "practically" keep the same time.
Related articles