Riverland Dingo Observatory
Riverland Dingo Observatory Telescope Farm (R.D.O.) is located approximately 300km east of Adelaide, South Australia. This region has a warm, sunny desert climate. 
It's also world famous for its production of wine grapes, varieties of citrus orchards and home grown almonds. Thanks to the River Murray flowing through, there is a distinctively high wildlife habitation within the area and it is considered a bird lovers paradise. However without the majestic Murray, it would not be possible to live comfortably or grow supplies in this region due to the very low rainfall levels.
Our cool nights and low humidity ensure a high average rate of clear and attractive skies. This places us in a prime location to maximise the benefit of our high quality equipment and provide you with a clear, focused observation service.
Riverland Dingo Observatory was established May 2007, with our first night open to the stars 1st August 2007. We started off with a customer who installed 2 domes. The domes proved very unreliable for remote operation. The site ground crew was born.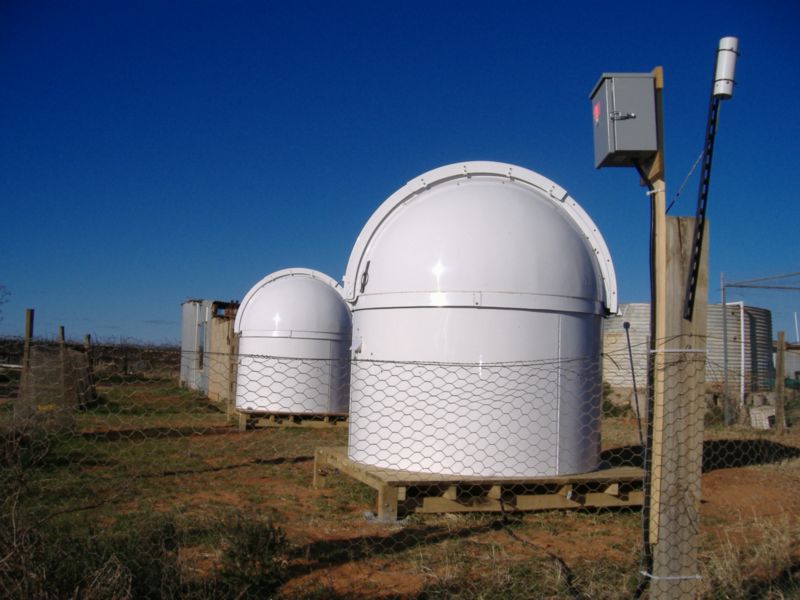 Domes at Riverland Dingo Observatory.
With Moorook's low annual rain fall (around 264mm), and clear dark skies, Moorook is a perfect spot to image or do astronomical scientific research. Many hours each night was spent assisting the new customer, before we designed and built small (single telescope) manual roll off roof observatory to replace the domes.
A lot of water has passed under the bridge since the good ol' days of monitoring the weather and manually opening and closing the roofs each night. Now with the construction of the commercial built pod buildings (two 7.5m x 12m pods), that are dust sealed and insulated, both are able to house up to 15 telescopes each. Both pods are fully automated with state of the art computer and weather monitoring systems.
The good ol' days of the ground crew working around the clock, manually opening and closing roofs before sunrise was a fabulous experience, but we have moved into a new and exciting era in site automation. RDO now hosts telescopes from Australia, England, China and the Untied States of America.
We have a comprehensive real time weather page which displays an All-Sky image, standard weather telemetry, Sky Quality Meter & meteorology charts.  We also keep a nightly history of site conditions. On each night's result, we link a cloud & ambient temperature graph.