NASA Chief Pressed on Domestic/Foreign Threats to Space in Hearing
 What in another year might have been a routine hearing about NASA's annual budget request turned into a heated, and sometimes partisan, exchange about the agency's internal security practices.
It included the broad state of the U.S. human spaceflight program. In theory, the purpose of the April 8 hearing of the House Appropriations, commerce, justice, science subcommittee was to allow lawmakers charged with writing NASA's 2015 appropriation to ask questions about the roughly $17.5 billion budget request the agency released in March.
In practice, the hearing was a double feature that paired a review of security practices at NASA field centers, spearheaded by subcommittee chairman Rep. Frank Wolf (R-Va.), with a budget briefing from NASA Administrator Charles Bolden. In an unusual twist, Bolden was formally sworn in by Wolf before testifying. NASA, and the rest of the federal government, released its budget request March 4. Wolf said Congress probably will not produce a NASA spending bill until after August. A bipartisan budget deal struck in December that eased the effects of sequestration on NASA and other discretionary spending agencies for 2014 and 2015 makes it less likely that the House and Senate will produce irreconcilable spending bills this year. 
After swearing him in, Wolf pressed Bolden about a review of security at NASA field centers conducted last year by the National Academy for Public Policy after Wolf went public with whistleblower allegations of major security lapses that allowed foreign nationals access to sensitive NASA technologies. Bolden said NASA has heeded the academy's review to centralize security and access practices, and has "established a foreign national access management office [and] we are in the process of putting out a solicitation for someone to head that office."
Wolf then switched the subject to NASA's human spaceflight program, questioning the agency's management of the Commercial Crew Program: NASA's plan to replace the shuttle with one of three commercially designed systems by late 2017. Since 2010, "we appropriated almost $2 billion for the program, including increases every fiscal year while the [NASA] top line has simultaneously been decreased," Wolf said. "We protected this program," the chairman said. Bolden did not see things that way.
"The Congress has provided about $2 billion for commercial crew," the NASA administrator acknowledged. However, "we have requested about $3 billion over time." Wolf also complained that NASA is seeking $848 million for Commercial Crew in 2015 — nearly $150 more than 2014 appropriation, which was a high water mark for the program — "and cannot tell us with any certainty how many commercial partners can be supported at that level, or what year a final capability would be available." Bolden replied that if NASA does not get its $848 million this year, the agency cannot even guarantee that one of the three competing systems now funded under the Commercial Crew Program will be ready to fly by 2017.
Bolden also brushed aside an old subcommittee idea, advanced this time by Rep. Robert Aderholt (R-Ala.), of anointing a single Commercial Crew provider so that the program's budget could be trimmed and the balance poured into the Space Launch System (SLS) heavy-lift rocket being developed at the Marshall Space Flight Center in Huntsville, Ala., and its companion Orion crew capsule. Bolden also told Aderholt that NASA has yet to decide on a final configuration for the heaviest variant of SLS, which must, by law, be able to send 130 metric tons to low Earth orbit. 
The superheavy SLS will use either competitively selected advanced boosters, paired with the Boeing-designed interim cryogenic propulsion upper stage that will launch with the 70-metric-ton SLS on its 2017 maiden flight, or an advanced upper stage.  "You don't need both," Bolden said. "That is a critical decision that we have to make, and it's a decision that will bear on the industrial workforce." Credit: spacenews.com
Space Memorabilia Auction Hits $1 Million Mark in New York
An emblem that traveled with U.S. astronauts on the 1969 Apollo moon flight and a check list from that historic mission were the top-selling items in a sale of space memorabilia, Bonhams auction house said on Wednesday. Nearly 300 space enthusiasts and collectors, ranging in age from their late 20s upwards, from 17 countries on four continents bid by telephone, Internet or in person in New York on Tuesday.
The auction took in $1 million, with 80 percent of the 300 items sold. "Space memorabilia is something that has broad appeal and you don't have to be a specialist to be excited about space exploration," Cassandra Hatton, senior space specialist at Bonhams in New York, said. "It is something that people dream of when they are kids. A lot of children dreamed of being an astronaut. It is a very personal kind of collecting area," she added.
The Apollo 11 checklist sheet with data recorded by crew member Buzz Aldrin while on the moon rocketed past it pre-sale estimate of $45,000 and sold for $68,750. Another top seller was an emblem showing an eagle with an olive branch above the moon's surface that was identical to the ones worn on the spacesuits of the crew. It fetched $62,500, slightly more than the top estimate, and was signed by the astronauts – Aldrin, Neil Armstrong and Michael Collins – on the historic mission.
An American flag carried by Aldrin into lunar orbit brought in $47,500, double its low estimate, and an Apollo 11 flight plan sheet sold for $37,500.  Hatton said space memorabilia has a nostalgic appeal for collectors. Many people remember when the Apollo 11 landed on the moon.
"It was the first time we set foot on the moon. Anytime we do a first thing it is a big deal," Hatton added. "There is also a more general interest from the public in science and space exploration. We haven't had a space program in a long time and it speaks to people's desire to see it happen again."
Another popular item was the Mercury Era spacesuit. It fetched $43,750, five times its low estimate, after lengthy bidding. The spacesuit was from the start of the U.S. human space exploration program, the Mercury Project, that launched the first American into space. The last flight was in 1963.
A rare Russian Strizh spacesuit, one of only 27 made, expected to sell for $20,000 failed to reach its reserve price, which Bonhams would not reveal. Many of the suits cosmonauts used for tests and training from 1981 to 1991 were damaged or destroyed. But a control panel from the Mir Space Station, which had an estimate of $6,000, went to the highest bidder for $9,375. Credit: 
reuters.com
 NASA Says Humans On Mars On Track For 2030s
 The U.S. space agency's head of human space exploration has outlined broad brush plans to put humans on Mars in the 2030s. William H. Gerstenmaier, NASA's associate administrator for human exploration and operations, likened the steps the agency is taking to the Mercury and Gemini programs, both of which were building blocks toward putting men on the Moon with the Apollo missions.
Wednesday, before the Senate Commerce, Science, and Transportation subcommittee, Gerstenmaier said NASA is taking steps to "that will allow us to make sustained progress toward a human presence on the surface of Mars." "There is real hardware in manufacture for the path to Mars," Gerstenmaier told senators.  
In 2017, for example, the agency plans an unmanned test of the Space Launch System (SLS) rocket and Orion multi-purpose crew vehicle, which will be used to take astronauts to Mars.  These initial steps toward Mars are comprised of "Earth-reliant" missions, such as the International Space Station, landing on an asteroid in lunar orbit, and finally, a "Mars-ready" mission.  
During the first stage, NASA, along with international partners and private entities, will conduct research on how to keep space crews safe and productive on long duration spaceflights.  
The joint effort will also explore how to transport cargo and crew affordably into low Earth orbit.  The second major stepping stone was approved by House subcommittee yesterday.  That mission calls for NASA to redirect an asteroid into lunar orbit, land astronauts on the asteroid, and return them safely to Earth.  
"We're going to grab a piece of the solar system, we're going to deflect it around the moon and insert it into a distant retrograde orbit around the moon where our crews can go visit," said Gerstenmaier.  The mission he said would develop skills and techniques needed to "push the human presence into the solar system."  Source:
Voice of America
 Lunar Eclipse Across The U.S. April 15
For people in the United States, an extraordinary series of lunar eclipses is about to begin. The action starts on April 15th when the full Moon passes through the amber shadow of Earth.
It will produce a pre-dawn eclipse visible across the United States and North America. So begins a lunar eclipse tetrad—a series of 4 consecutive total eclipses occurring at approximately six month intervals.  The total eclipse of April 15, 2014, will be followed by another on Oct. 8, 2014, and another on April 4, 2015, and another on Sept. 28 2015. "The most unique thing about the 2014-2015 tetrad is that all of them are visible for all or parts of the USA," says longtime NASA eclipse expert Fred Espenak.
How It Will Start
The eclipse will begin at 12:58 a.m. Central Daylight Time, when the Moon begins to move into Earth's shadow. As Earth's long shadow falls across the Moon, the part in the shadow will turn dark. It will look as though a chunk were missing from the Moon, which will grow larger as minutes pass.
Just over an hour later, at 2:02 a.m., the Moon will be fully eclipsed — the entire disk shrouded in red. Totality will last one hour and 18 minutes. The Moon will begin to emerge from Earth's shadow at 3:25 a.m., and will have moved out completely by 4:33 a.m.
The Moon moves from the south to the southwest as the eclipse progresses. Bright orange Mars will shine to its upper right. The entire event will last just over three and a half hours, and will be visible (weather permitting) for most of the United States, except New England and Alaska. The Moon will rise with the partial eclipse in progress as seen from Alaska. From New England, the Moon will set before the eclipse ends.
How Often?
On average, there are two or three lunar eclipses a year…but not all of them are total. They occur when the alignment of the Sun, Earth and full Moon is just right, so the Moon passes through Earth's shadow. If the shadow completely engulfs the Moon, it's a total eclipse. But if the shadow covers only part of the lunar disk, it's a partial eclipse.
 There are three types:
A penumbral eclipse is when the Moon passes through the pale outskirts of Earth's shadow.  It's so subtle, sky watchers often don't notice an eclipse is underway. 
A partial eclipse is more dramatic.  The Moon dips into the core of Earth's shadow, but not all the way, so only a fraction of Moon is darkened.
A total eclipse, when the entire Moon is shadowed, is best of all.  The face of the Moon turns sunset-red for up to an hour or more as the eclipse slowly unfolds.
Usually, lunar eclipses come in no particular order. A partial can be followed by a total, followed by a penumbral, and so on.  Anything goes. Occasionally, though, the sequence is more orderly. When four consecutive lunar eclipses are all total, the series is called a tetrad.
"During the 21st century, there are 9 sets of tetrads, so I would describe tetrads as a frequent occurrence in the current pattern of lunar eclipses," says Espenak. "But this has not always been the case. During the three hundred year interval from 1600 to 1900, for instance, there were no tetrads at all."
The April 15th eclipse begins at 2 AM Eastern time when the edge of the Moon first enters the amber core of Earth's shadow.  Totality occurs during a 78 minute interval beginning around 3 o'clock in the morning on the east coast, midnight on the west coast.  Weather permitting, the red Moon will be easy to see across the entirety of North America.
Why red?
A quick trip to the Moon provides the answer: Imagine yourself standing on a dusty lunar plain looking up at the sky. Overhead hangs Earth, nightside down, completely hiding the sun behind it. The eclipse is underway.
You might expect Earth seen in this way to be utterly dark, but it's not. The rim of the planet is on fire! As you scan your eye around Earth's circumference, you're seeing every sunrise and every sunset in the world, all of them, all at once. This incredible light beams into the heart of Earth's shadow, filling it with a coppery glow and transforming the Moon into a great red orb. Mark your calendar for April 15th and let the tetrad begin.
Apollo 15 Artifacts Featured In NYC Space Auction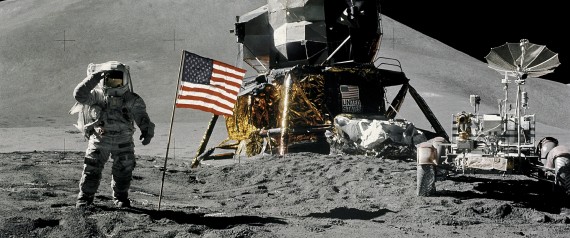 Everything from American and Russian spacesuits to a moon dust-covered strap from the Apollo 12 mission will be available to space history buffs at auction in New York City next week. Among the highlights at Bonhams on Tuesday is a motion picture sight ring, a small polarizing filter put on a camera that was used by astronaut James Irwin on Apollo 15.
"It was used in the module when it landed on the moon and also on takeoff," said Cassandra Hatton, Bonham's space history specialist. "It's extremely rare, probably the only one in private hands." The sight ring is being sold by Irwin's estate and is estimated at $20,000 to $30,000.
Another fascinating item is an Apollo 12 shoulder strap embedded with lunar dust. It was used when astronauts Charles Conrad and Alan Bean conducted two extensive surface explorations during which they accumulated a large amount of lunar dust on their suits, gloves and flight equipment. The strap has a pre-sale estimate of $25,000 to $35,000.
The sale is significant because "we have items that came directly from astronauts, items that they carried into lunar orbit with them, items that went to the lunar surface and items that have lunar dust on them," Hatton said.
Other highlights include Apollo 11′s lunar surface checklist sheet with annotations by astronaut Buzz Aldrin. The data enabled Aldrin and Neil Armstrong to return to earth. The auction house said it is one of the most extensive sets of notations ever made on the lunar surface. It has a pre-sale estimate of $35,000 to $45,000.
Other items include a Mercury era spacesuit estimated at $8,000 to $12,000. It is an example of the cover layer for the famous silver spacesuit of the Mercury program. The one being offered is not attributed to any astronaut and was never flown.
A Soviet-era Strizh spacesuit designed to protect cosmonauts from ejection is estimated at $15,000 to $20,000. Bonhams said it is one of only 27 created for test and training purposes between 1981 and 1991. American flags flown on various expeditions also are in the sale, including a silk version carried to the moon by Aldrin on Apollo 11. It's estimated at $20,000 to $30,000.
Cleanup Set For Iconic Saturn Rocket at Alabama Centre
Travelers often get an unexpected surprise when they enter Alabama on Interstate 65: a 224-foot Saturn 1B rocket. Annette James of Bowling Green, Kentucky, said the surprise led her to stop at the Alabama Welcome Center at Ardmore last week with her teenagers to get a better look.
The Saturn 1B is Alabama tourism's iconic welcome landmark to travelers entering the state. James said it's particularly impressive against the clear blue sky and the forest that surrounds it.
As they posed for photos and read about the U.S. Space and Rocket Center, they couldn't help making another discovery: The rocket needs work. "The rocket isn't clean," James said. "And it needs painting. They should take better care of it."
The paint is faded, and black mold and algae cover the bottom. Birds use the rocket's crevices for nests, and their droppings are everywhere.
The U.S. Space and Rocket Center in Huntsville is working with the Alabama Department of Transportation to get it pressure-washed and painted this summer. The state Tourism Department will fund the project.
"The rocket presents a great perception of our state to visitors," Space and Rocket Center spokesman Tim Hall said. "We want it to show the thrill and excitement of the state and the rocket program."
Sherry Griffith is one of five representatives of the Alabama Tourism Department who works at the welcome center. She said 1.3 million guests signed the visitors book last year, and many more make quick stops without signing.
"The rocket is like a magnet," Griffith said.
The welcome center opened in 1977. NASA donated the rocket to the state in 1979 but still works with the state on its upkeep. A fence was added around the rocket recently to prevent graffiti, officials said.
NASA ordered 12 complete Saturn 1B launch vehicles but, starting in 1966, launched only nine of them. They were used for Apollo, Skylab and Apollo/Soyuz test project missions.
On Jan. 27, 1967, a flash fire in the capsule of a Saturn 1B killed astronauts Gus Grissom, Ed White and Roger Chaffee in the Apollo 1 mission.
Budget cuts and criticism of the Saturn 1B booster's power halted production in 1968. After the Skylab launched in 1969-70 with the existing rockets, NASA scrapped the program in 1971. The Ardmore rocket was never used.
James said the rocket offered her 13-year-old daughters Haley and Holly, and their friend Tyler Baise, a chance for a history lesson as they traveled to Panama City, Florida, for spring break.
She said it led her to inquire about the Space and Rocket Center in Huntsville, its location and tour schedules. The Republic
North Korea Mimics NASA Logo
NASA may well be the most-recognized space agency in all the world, so it's not a big surprise North Korea might want to riff on it when naming its own space agency. Well, why not go with the best? That apparent line of thought seems to have ended with the choice of "National Aerospace Development Administration" for the official name.
As a phrase, it sounds pretty impressive. As an acronym, it carries a less-than-desirable meaning in Spanish, as "nada" means "nothing." According to a release from the state-run Korea Central News Agency, NADA's mission is to "put into practice the idea and principle of the DPRK government to develop the space for peaceful purpose."
The release continues with a discussion of how the logo was developed. The two light-blue rings symbolize satellite orbits. The Great Bear constellation "reflects the will of the space scientists of the DPRK to glorify Kim Il Sung's and Kim Jong Il's Korea as a space power."
The release, however, doesn't mention the logo's striking resemblance to NASA's logo. Both share a blue globe with stars and round orbital designs, not to mention the one-letter difference between the acronyms.
A year ago, North Korea adopted a law on space development, which includes a stand against the weaponization of outer space. The program is in the fledgling stages, but at least it has a logo now, even if it appears to be heavily borrowed from another agency. Source: Cnet
Sierra Nevada and Lockheed Martin Expand Dream Chaser Manufacturing
Sierra Nevada Corporation (SNC) and Dream Chaser partner Lockheed Martin announced the expansion of spacecraft orbital vehicle manufacturing operations. As a valued member of SNC's Dream Chaser Dream Team, Lockheed Martin is under contract to manufacture the next Dream Chaser composite structure which will be for the first orbital vehicle scheduled to launch on November 1, 2016. The MAF, which is owned and operated by NASA's Marshall Space Flight Center, has been operational since 1961 and has played a significant role on our nation's space programs ranging from Apollo to the space shuttle.
Today, leveraging the experience, technical expertise and current infrastructure at Michoud, next generation vehicles such as SNC's Dream Chaser and Lockheed Martin's Orion are being fabricated within the same walls as legendary programs.
 "Michoud and the state of Louisiana, have a vital role in our nation's space program," said Mark N. Sirangelo, corporate vice president and head of SNC's Space Systems. "We look to continue this valuable role through our partnership with Lockheed Martin for the build of our next Dream Chaser composite structure at the Michoud Assembly Facility. We will be utilizing MAF's existing facilities, partnerships and the workforce of Louisiana to bring America's future transportation vehicles for low-Earth orbit to reality while continuing to expand the Dream Chaser program footprint, which now provides employment in over 30 states."
 SNC chose Lockheed Martin to manufacture the Dream Chaser orbital composite structure based on their rich human spaceflight manufacturing heritage, including building the External Tank for the space shuttle program, and their work for the Orion program Fabricating key elements of Dream Chaser structures at MAF leverages Orion manufacturing efforts currently underway, while also taking advantage of existing facilities, relationships and assets, such as the National Center for Advanced Manufacturing (NCAM).
 "Lockheed Martin's history at MAF brings a wealth of experience to the Dream Chaser program," said Jim Crocker, vice president of Lockheed Martin's Space Systems Company Civil Space Line of Business. "Not only are we leveraging manufacturing processes and technology, we are also leveraging the Human Rating Certification methodology developed by the Orion program, which was then tailored to Dream Chaser." Credit: sncorp.com
A Tetrad of Lunar Eclipses
So begins a lunar eclipse tetrad – a series of four consecutive total eclipses occurring at approximately six month intervals. The total eclipse of April 15 will be followed by another on Oct. 8, and another on April 4, 2015, and another on Sept. 28 2015.
"The most unique thing about the 2014-2015 tetrad is that all of them are visible for all or parts of the USA," said longtime NASA eclipse expert Fred Espenak. On average, lunar eclipses occur about twice a year, but not all of them are total. The following are three types.
A penumbral eclipse is when the moon passes through the pale outskirts of Earth's shadow. It's so subtle, sky watchers often don't notice an eclipse is underway. A partial eclipse is more dramatic. The moon dips into the core of Earth's shadow, but not all the way, so only a fraction of moon is darkened.
A total eclipse, when the entire moon is shadowed, is best of all. The face of the moon turns sunset-red for up to an hour or more as the eclipse slowly unfolds. Usually, lunar eclipses come in no particular order. A partial can be followed by a total, followed by a penumbral, and so on. Anything goes. Occasionally, though, the sequence is more orderly. When four consecutive lunar eclipses are all total, the series is called a tetrad.
"During the 21st century, there are nine sets of tetrads, so I would describe tetrads as a frequent occurrence in the current pattern of lunar eclipses," said Espenak. "But this has not always been the case. During the three hundred year interval from 1600 to 1900, for instance, there were no tetrads at all."
The April 15 eclipse begins at 2 a.m. Eastern time when the edge of the Moon first enters the amber core of Earth's shadow. Totality occurs during a 78-minute interval beginning around 3 a.m. on the East Coast, midnight on the West Coast. Weather permitting, the red moon will be easy to see across the entirety of North America.
Why red? A quick trip to the moon provides the answer: Imagine yourself standing on a dusty lunar plain looking up at the sky. Overhead hangs Earth, nightside down, completely hiding the sun behind it. The eclipse is under way.
You might expect Earth seen in this way to be utterly dark, but it's not. The rim of the planet is on fire! As you scan your eye around Earth's circumference, you're seeing every sunrise and every sunset in the world, all of them, all at once.
This incredible light beams into the heart of Earth's shadow, filling it with a coppery glow and transforming the moon into a great red orb. Mark your calendar for April 15 and let the tetrad begin. More information about the lunar eclipse may be found on NASA's eclipse home page, http://eclipse.gsfc.nasa.gov/eclipse.html .Source: Lake County News
NASA Marks Major Programmatic Milestone for Spaceport of the Future
 NASA achieved a major milestone this month in its effort to transform the agency's Kennedy Space Center in Florida into a multi-user spaceport by successfully completing the initial design and technology development phase for the Ground Systems Development and Operations (GSDO) Program. The major program milestone on March 20, called the Preliminary Design Review, provided an assessment of the initial designs for infrastructure at Kennedy and allowed development of the ground systems to proceed toward detailed design. The thorough review has validated the baseline architecture is sound and aligns with the agency's exploration objectives.
"We've pushed the boundaries of space exploration for more than 50 years and are making progress getting ready to move the frontier even further into the solar system," said Dan Dumbacher, deputy associate administrator for exploration system development at NASA Headquarters in Washington. "The work being done to transform our abilities to prepare and process spacecraft and launch vehicles at Kennedy is a critical piece of our efforts to send astronauts in Orion on top of the Space Launch System to an asteroid and ultimately Mars."
 Unlike previous work at Kennedy focusing on a single kind of launch system, such as the Saturn V rocket or space shuttle, engineers and managers in GSDO are preparing the spaceport's infrastructure to support several different spacecraft and rockets in development for human exploration. This includes NASA's development of the Space Launch System (SLS) rocket and Orion spacecraft. They will provide an entirely new capability for human exploration beyond low-Earth orbit with the flexibility to launch spacecraft for crew and cargo missions to destinations in the solar system, including an asteroid and Mars.
 "The preliminary design review is incredibly important, as it must demonstrate the ground systems designs are on track to process and launch the SLS and the Orion from Kennedy," said Mike Bolger, GSDO program manager.
 In December 2012, the GSDO Program completed a combined system requirements review and system definition review to determine the center's infrastructure needs for future programs and establish work plans for the preliminary design phase. That successful completion confirmed the groundwork needed to launch the SLS and Orion spacecraft. Credit: NASA
Asteroid Initiative Opportunities Forum Highlights Progress

 NASA officials discussed latest progress and new opportunities in the agency's Asteroid Initiative in a March 26 forum with members of the aerospace industry, academia and space enthusiasts. The forum followed a March 21 Broad Agency Announcement (BAA) calling for additional mission concept studies led outside of NASA, with $6 million in potential awards. NASA's Asteroid Initiative is comprised of an Asteroid Grand Challenge (AGC) to develop new partnerships and collaborations to accelerate NASA's existing planetary defense work, and a mission to capture and redirect an asteroid and visit it with astronauts to collect samples.
NASA refers to the latter effort to identify, redirect and send astronauts to explore an asteroid as the "Asteroid Redirect Mission" (ARM). This mission has three major elements: target identification, characterization and selection; a robotic mission to capture and redirect the selected asteroid into a stable orbit above the moon; and a crewed mission segment in which astronauts in the Orion spacecraft launched aboard the Space Launch System (SLS) rocket will rendezvous with the captured asteroid, conduct spacewalks to collect samples from it, and return them to the Earth for analysis.
"Our Asteroid Initiative is part of a stepping stone approach focused on meeting the President's bold challenge of sending humans to Mars in the 2030s," said NASA Administrator Charles Bolden. "The Asteroid Redirect Mission will help us develop technologies, including solar electric propulsion, needed for future deep space missions; and the Grand Challenge includes enhanced Near Earth Object (NEO) detection and characterization, which will extend our understanding of NEO threats while providing additional opportunities for investigation of asteroids and demonstrations of technologies and capabilities."
Following Bolden's welcome remarks, astronaut Karen Nyberg, who recently completed a six-month stay aboard the International Space Station, stressed the importance of the space station as a feat of international collaboration and a cornerstone for future, farther exploration into space. "I know everybody here at NASA is extremely excited to hear your ideas on how we can go forward with the Asteroid Initiative with the ultimate goal of taking us – the world population – farther into the solar system," said Nyberg
Mission Concept Study Updates
In a six-panel lineup, leading NASA experts described ongoing concept studies for the Asteroid Redirect Mission, starting with near-Earth object observation efforts to identify viable candidates for the mission. Mission concept leads Brian Muirhead of NASA's Jet Propulsion Laboratory (JPL) and Dan Mazanek of NASA's Langley Research Center explained the leading asteroid capture concepts. One would use an inflatable bag to envelop a small, free-flying asteroid. Another concept would employ robotic arms to pluck a boulder off of a larger asteroid.
In both cases, the target asteroid would already be on a trajectory which comes near the Earth-moon system. A redirect vehicle powered by advanced solar-electric propulsion would use thrusters to slowly push the asteroid to a new position: a distant retrograde lunar orbit. Both concepts would also demonstrate basic planetary defense techniques to determine if they could be used to defend the planet in the case of a potential catastrophic asteroid collision with Earth. Once in a stable lunar orbit, NASA would send astronauts aboard the Space Launch System and Orion spacecraft to visit the asteroid. This unprecedented mission would take humans farther into deep space than ever before.
Opportunities for Involvement  
A panel dedicated to the BAA opportunity featured systems experts who explained details of the 
five-part solicitation
. Notices of intent for the BAA are due April 4 and proposals are due May 5. Contracts are expected to begin July 1 and conclude Dec. 31, 2014. Jason Kessler, the program executive for NASA's Asteroid Grand Challenge, highlighted current activities and announced a new partnership with SpaceGAMBIT that will focus on how the Maker community can engage with the challenge to find all asteroid threats to human population and know what to do about them.
NASA Associate Administrator Robert Lightfoot concluded the event, noting that teams working on the two Asteroid Redirect Mission concepts have been consolidated into one team, and the agency is beginning to assign work on the mission concepts to NASA centers in advance of a mission concept review.  "It's pretty exciting for me to stand here and think about how far they've come in just a year developing these capabilities to do this mission, but also to make sure that all the things we're working on are extensible to our real destination, which is Mars," Lightfoot said.Credit: 
NASA
Breakdown with Russia May Stall Deep-Space Plan, NASA Chief Says
 NASA Administrator Charles F. Bolden Jr. told a congressional panel Thursday that if Russia stops taking American astronauts to the International Space Station, he will recommend suspending work on deep-space programs that rely on the orbiting lab for important groundwork. The Committee on Science, Space, and Technology held a hearing Thursday with Charles Bolden, to examine the Obama administration's fiscal year 2015 (FY15) budget and its priorities. Members on both sides of the aisle raised numerous concerns with the priorities represented in the President's proposal that cuts NASA's funding by $185 million.
Responding to House members who raised the concern, Bolden said it's very doubtful Russia would suddenly bar astronauts from riding on its Soyuz rockets, even amid rising tensions between the two countries over Ukraine. "I am not aware of any threat, and I am comfortable because we talk to the Russians every day," Bolden testified. "There's a lot of people in Russia," he said. "Our partner is not Russia, our partner is Roscosmos. We're confident that they are just as interested and just as intent on maintaining that partnership as we are." Bolden pointed out that there were similar concerns — concerns that were equally unfounded — that Russia might disrupt cooperation in space over more terrestrial concerns.
The budget includes funding to continue NASA's top priorities: the deep-space rocket and Orion multi-purpose vehicle it will carry to Mars, the James Webb Space Telescope due for launch in 2018, and about $133 million to fund a trip to an asteroid by 2025 as part of a stepping-stone approach to the Red Planet. NASA also is seeking $848 million for the Commercial Crew program — in which private aerospace companies are helping the agency develop a successor to the space shuttle — to meet a 2017 goal to resume sending astronauts to the space station from U.S. soil. That's $148 million more than the program received for fiscal 2014.
The President's budget again seeks to fund an Asteroid Retrieval Mission (ARM), a mission that experts and Congress have sharply criticized. Chairman Lamar Smith (R-Texas) highlighted testimony before the Committee by NASA Advisory Council Chairman, Dr. Steve Squyres, who said "I see no obvious connection between [ARM] and any of the technologies or capabilities that are required for Martian exploration."
Congress has never given NASA its full funding request for the program since the Obama administration first asked for money several years ago. Lawmakers fear Commercial Crew takes money away from the deep-space program they often cite as their top priority. That's forced the agency to push back the planned launch date — from 2015 to late 2017 — for its first crewed mission to the space station.
U.S. astronauts have had to rely on Russia for rides to the space station since the shuttle program ended with Atlantis' landing in July 2011. The Russians charge American taxpayers more than $70 million for each round trip under a contract between NASA and Roscosmos. Not funding the full $848 million this time would almost certainly push that first flight into 2018 or later, forcing NASA to buy more seats from Russia, Bolden said.
"Budgets are about choices," Bolden told lawmakers. "The choice here is between fully funding the request to bring space launches back to American soil or continue to send millions to the Russians. It's that simple." Credit: 
science.house.gov
, 
floridatoday.com
SpaceX Successfully Test-Fires Falcon 9R Prototype
 SpaceX released video Friday evening of a test — date unknown — of its Falcon 9R prototype, the vertical-takeoff-and-landing successor to its Grasshopper testbed. The 5-second engine firing was a preliminary to later tests in which the craft will take flight. The company successfully test fired the first stage of F9R—an advanced prototype for the world's first reusable rocket—in preparation for its first test flight in the coming weeks.
Unlike airplanes, a rocket's thrust increases with altitude; F9R generates just over a million pounds of thrust at sea level but gets up to 1.5 million pounds of thrust in the vacuum of space. The F9R testing program is the next step towards reusability following completion of the Grasshopper program last year. Future testing, including that in New Mexico, will be conducted using the first stage of a Falcon 9 Reusable (F9R) as shown here, which is essentially a Falcon 9 v1.1 first stage with legs.
 F9R test flights in New Mexico will allow us to test at higher altitudes than we are permitted for at our test site in Texas, to do more with unpowered guidance and to prove out landing cases that are more-flight like. Credit: spacex.com, wacotrib.com
Senator Nelson Sees No Rift with Russians Over Space
 U.S. partnership with Russia in space isn't likely to be dragged into the political crisis over Russia's annexation of Crimea, Sen. Bill Nelson said at Kennedy Space Center.
"I think you will not see a hitch in the American and the Russian space program that we share with a lot of other nations as well," Nelson said. "Even though (Russian President Vladimir) Putin would like to do everything he can to gain advantage and re-impose a Russian empire, I think it's pretty clear that the cooperation in space will continue."
Nelson, who serves on the Senate Armed Services committee and chairs the subcommittee that sets NASA policy, advocated economic sanctions to punish Putin and the potential for mili-tary aid to Ukraine. He also advocated fully funding President Obama's request for nearly $850 million in 2015 to advance development of commercial rockets and spacecraft that would end U.S. reliance of Russia for human access to orbit.
But he said space operations were unlikely to become a pawn in the dispute, including the possibility that Russia could deny NASA astronauts rides to the ISS. Since the shuttle's retirement in 2011, Russia's Soyuz spacecraft is the only option for crews to reach the $100 billion outpost 260 miles above Earth, and NASA pays about $70 million per seat.
But Russia could not operate the station on its own; it needs U.S. systems to power and route commands to its portion of the station, he said. "Russia can't just suddenly say we're not going to take you to the space station," he said.Credit: floridatoday.com
NASA Extends Lockheed Martin Contract to Support ISS
The National Aeronautics and Space Administration (NASA) recently awarded Lockheed Martin a one-year contract extension on the Cargo Mission Contract 2 valued at $22 million. The extension ensures continuation of processing services, including support planning, coordination, preparation and packing of standardized containers for cargo delivery to and from the International Space Station (ISS).
Through this extension, Lockheed Martin will also manage Flight Crew Equipment support, which includes buying, maintaining and preparing items for the ISS crew such as clothing, housekeeping and personal hygiene items, laptop computers and audio and visual equipment. The extension begins April 1 and is the first of four options in the original Cargo Mission Contract awarded in December 2010.
"Lockheed Martin has a history of outstanding performance on the Cargo Mission Contract, providing the International Space Station program with affordable, responsive and flexible solutions," said Rick Hieb, vice president of exploration and mission support for Lockheed Martin Information Systems & Global Solutions. "We look forward to continuing our support to NASA and the International Space Station with innovative and efficient processing to meet their future cargo provisioning needs."
Through this program, Lockheed Martin manages, stores and maintains more than 3 million items for the ISS crew. Additionally, the team annually exports and ships about 25,000 pounds of cargo to launch locations around the world, including Russia, Kazakhstan, Japan, French Guiana and the United States. As the ISS program continues to evolve, Lockheed Martin has been flexible in responding to and supporting a variety of changes in manifests. The team has quickly worked late requests to keep the ISS supplied with critical items to sustain the crew and continue important scientific research.
Lockheed Martin also supports NASA's Johnson Space Center in Houston by providing systems engineering and analysis, control center design, development and operations, life sciences services, human in-the-loop simulations, and a broad range of engineering, science and technical services activities.Credit: 
lockheedmartin.com
Fireball Seen for the Second Day in a Row Over Nova Scotia, Canada
 For the second day in a row, a large fireball has been seen in the sky over Nova Scotia. CBC News reporter Phonse Jessome saw the colourful fireball in the northwestern sky above Fall River, 25 km north of Halifax, at 5:17 a.m. AT Wednesday. He said he saw it make a long, slow entry before breaking up into three or four pieces as it reached the horizon. "I see shooting stars on this shift [all the time]," Jessome tweeted.
"This was no shooting star. Not sure what's going on up there but it looks cool." Stephen Lukas, who lives in the Hammonds Plains area of Halifax, said he saw the light during his morning run. "Just over my left shoulder I had a clear, unobstructed view of what looked to me like a large meteor, silvery white, it was definitely round, streaking through the sky," he said.
 "I watched it for what I would guess was about seven seconds. It seemed longer, but that's probably as long as it was, and then it dipped into the horizon. And it did break up. I clearly saw it break up into smaller pieces." Lukas said he sees shooting stars regularly, about once per month during his morning run, but this one was much bigger. In fact, he said he also saw another one on Monday. "At first I thought it was a shooting star. I actually saw something similar on Monday morning on my morning run," he said.
Nigel Service, who was up early driving on Old Sambro Road in the Harrietsfield area south of Halifax, echoed Jessome's report. "All of a sudden, straight overhead, [there] was a small white light, which I didn't pay any attention to right away, because it almost looked like these new LED lights the city is putting up for street lighting," he said.
"I lost sight of it for about a millisecond and caught it again, and it was increasing in size and looked like it was moving toward mouth of [Halifax] Harbour."
Unlike Jessome, Service said he didn't see it break apart. He was adamant the light he saw was not coming from the International Space Station, something he is familiar with. He said what he saw in the sky matched what was described by witnesses to Tuesday's fireball over the Maritimes.On Tuesday, dozens of witnesses across New Brunswick, Nova Scotia, P.E.I. and near the Gaspé Peninsula in Quebec reported seeing a burning, colourful flame that appeared in the sky about 5 a.m. AT.  Credit: 
cbc.ca
NASA Seeks Proposals on Asteroid Redirect Mission Concepts
 In support of NASA's Asteroid Redirect Mission – a key part of the agency's stepping stone path to send humans to Mars – agency officials are seeking proposals for studies on advanced technology development. Through a Broad Agency Announcement (BAA), released Friday, NASA hopes to solicit proposals for concept studies in areas including asteroid capture systems, rendezvous sensors, adapting commercial spacecraft for the Asteroid Redirect Mission and feasibility studies of potential future partnership opportunities for secondary payloads and the crewed mission.
 "As NASA continues to make great progress refining our mission concepts, we're reaching out to seek new and innovative ideas as we extend the frontier of space exploration," said William Gerstenmaier, associate administrator for Human Exploration and Operations at NASA Headquarters in Washington. "To reach Mars, we'll rely on new technologies and advanced capabilities proven through the Asteroid Initiative. We're looking forward to exciting ideas from outside NASA as well to help realize that vision." Following evaluations of the proposals, NASA plans to select no more than 25 proposals and make total awards of as much as $6 million. Contracts would begin and end this year. More information can be found in the BAA, available at: http://go.nasa.gov/1jhiPXs
 The announcement precedes a Wednesday, March 26, Asteroid Initiative Opportunities Forum at NASA Headquarters. The forum will provide status updates from ongoing Asteroid Redirect Mission concept and extensibility refinement and expand on the BAA, which is a follow-on step from the 2013 Request for Information in mission planning activities. The event also will highlight opportunities for public engagement in the mission and activities associated with the agency's Asteroid Grand Challenge. The forum will be carried on NASA Television and streamed online for virtual participants. For the agenda and to register as a virtual participant, go to: http://socialforms.nasa.gov/asteroidforum-virtual
 NASA's Asteroid Initiative includes the Asteroid Grand Challenge and the Asteroid Redirect Mission. The grand challenge will develop new partnerships and collaborations to accelerate the agency's existing planetary defense work, and the mission will collect and redirect an asteroid where astronauts can explore and sample it. Credit: NASA
Ontario Residents Check Backyard for Space Rocks After Meteorite Crash
 Researchers from Western University have released footage of a basketball-sized meteor that was almost as bright as the full moon. The meteor lit up the skies of southwestern Ontario earlier this week and Western astronomers are now hoping to enlist the help of local residents in recovering one or more possible meteorites that may have crashed in the area just north of St. Thomas, Ontario. The Physics and Astronomy Department at Western's Faculty of Science has a network of all-sky cameras in southern Ontario that scan the atmosphere monitoring for meteors.
Peter Brown, Director of Centre for Planetary Science and Exploration (CPSX), who specializes in the study of meteors and meteorites, says that on the evening of Tuesday, March 18 a long-lasting fireball which occurred near 10:24 p.m. was detected by seven all-sky cameras of Western's Southern Ontario Meteor Network (SOMN) and two camera systems in Ohio and Pennsylvania jointly operated with NASA's Meteoroid Environment Office.
"It spent about five seconds in luminous flight over southern Ontario," Brown told reporters Friday. "It was seen by a lot of people in the Toronto area, where it was clear." The brilliant fireball started near Port Dover at a height of 75 km and moved almost due westward before ending at 32 km altitude between Aylmer and St. Thomas, Ontario. One or more meteorites were produced by the slow fireball based on the video records from the cameras. Brown along with Phil McCausland, an Assistant Professor and Meteorite Curator at Western's Department of Earth Sciences, are now working to get the word out amongst interested people who may be willing to see if they can spot any fallen meteorites.
 "Meteorites, when they are freshly fallen and especially when the ground is still reasonably frozen like this, they sit on the surface and kind of look weird and attract your attention," said McCausland.
 Researchers at Western are interested in hearing from anyone approximately 5 km north or northwest of St. Thomas, who may have witnessed or recorded this event, seen or heard unusual events at the time, or who may have found possible fragments of the freshly fallen meteorite. According to McCausland, meteorites are of great scientific value. He also points out that in Canada meteorites belong to the owner of the land upon which they are discovered. If individuals intend to search they should, in all cases, obtain the permission of the land owner before searching on private land.
 Meteorites may best be recognized by their dark and scalloped exterior, and are usually denser than normal rock and will often attract a fridge magnet due to their metal content. In this fall, meteorites may be found in a small hole produced by their dropping into soil. Meteorites are not dangerous, but any recovered meteorites should be placed in a clean plastic bag or container and be handled as little as possible to preserve their scientific information.  Credit: uwo.ca, ctvnews.ca
NASA Centers Team Up to Tackle Sonic Boom
Since the Concorde's final landing at London's Heathrow Airport nearly a decade ago, commercial supersonic air travel has been as elusive as a piece of lost luggage.
However, this hasn't stopped NASA from continuing the quest to develop solutions that will help get supersonic passenger travel off the ground once more. And, while aerospace engineers have made significant progress in their understanding of supersonic flight, one significant challenge remains: the loud sonic boom.
"There are three barriers particular to civil supersonic flight; sonic boom, high altitude emissions and airport noise. Of the three, boom is the most significant problem," said Peter Coen, manager of NASA's High Speed Project with the agency's Aeronautics Research Mission Directorate's Fundamental Aeronautics Program.
The level of concern over sonic boom annoyance became so significant that the Federal Aviation Administration prohibited domestic civil supersonic flight over land in 1973. This prohibition helped quiet the skies and reduce potential impacts on the environment. However, it also dashed hopes of introducing supersonic overland passenger service within U.S. airspace during the Concorde era.
 Overcoming this sonic boom prohibition has kept engineers busy at the four NASA centers that conduct aeronautics research in California, Ohio and Virginia.
 Since the maximum acceptable loudness of a sonic boom is not specifically defined under the current FAA regulation, NASA and its aviation partners have been researching ways to identify a loudness level that is acceptable to both the FAA and the public, and to reduce the noise created by supersonic aircraft. Using cutting-edge testing that builds on previous supersonic research, NASA has been exploring "low-boom" aircraft designs, and other strategies that show promise for reducing sonic boom levels.
Astronauts Train at Maxwell Air Force Base
To prepare for the rigors and dangers of space travel, astronauts attend different training scenarios at facilities all over the world. Some are highly specialized, immersive environments such as underwater tanks containing full mock ups of the international space station to practice functioning in weightless environments.
There are also facilities used by others that can be repurposed to suit the astronauts' needs. Maxwell Air Force Base's Squadron Officer College Project X leadership reaction course and the Vigilant Warrior training complex here are two facilities that Peggy Whitson, the NASA Johnson Space Center in Houston training lead for astronaut expeditionary skills, sought out to provide a unique training opportunity for its astronauts.
Designed to develop leadership skills, the LRC and vigilant warrior field exercises are a series of obstacle course challenges that students attending schools on Maxwell Air Force Base, Ala., go through as teams.
 The training was modified over the course of a year to fit the astronauts' training needs in a coordinated effort between NASA and the Academy of Military Science here on Maxwell AFB, said Lt. Col. Reid Rasmussen, the AMS commander.
 Six American and international astronauts participated in training events at the LRC, and the VWTC, March 3-5.
 "The way we ran the LRC for NASA is very different than how we would run it for our students," Rasmussen said. "They are more highly trained and come with a much broader skill set than your average lieutenant shows up with."
The events were designed to provide the astronauts with unique training opportunities based on requirements provided by NASA. The exercise pitted the astronauts against a specific obstacle goal to be achieved within a time limit and under a specific set of rules.
SpaceX-3 Mission Launch From Cape Canaveral Delayed
 SpaceX's planned Sunday morning launch of cargo mission to the International Space Station has been delayed at least two weeks, to no earlier than March 30, the company said.
"To ensure the highest possible level of mission assurance and allow additional time to resolve remaining open items, SpaceX is now targeting March 30th for the CRS-3 launch, with April 2nd as a back-up." SpaceX said. These represent the earliest available launch opportunities given existing schedules, and are currently pending approval with the Air Force's Eastern Range. Both Falcon 9 rocket and Dragon spacecraft are in good health, given the critical payloads on board and significant upgrades to Dragon.
"The additional time will ensure SpaceX does everything possible on the ground to prepare for a successful launch. Additional details on exact liftoff time, press activities, etc. will be available as we get closer to launch" the company said.
SpaceX CRS-3 is the third of at least 12 missions to the International Space Station that SpaceX will fly for NASA under the Commercial Resupply Services (CRS) contract. In December 2008, NASA announced that SpaceX's Falcon 9 launch vehicle and Dragon spacecraft had been selected to resupply the space station after the end of the Space Shuttle program in 2011. Under the CRS contract, SpaceX is restoring an American capability to deliver and return significant amounts of cargo, which could include live plants and animals, to and from the orbiting laboratory. 
 Dragon will be filled with about 4,600 pounds of supplies and payloads, including critical materials to support more than 150 investigations that will occur during Expeditions 39 and 40. Dragon will carry four powered cargo payloads in its pressurized section and two in its unpressurized trunk, a first for SpaceX. Dragon will return with about 3,600 pounds of cargo, which includes crew supplies, hardware and computer resources, science experiments, biotechnology, and space station hardware. 
 Science payloads include the Optical Payload for Lasercomm Science (OPALS), which will test the use of laser optics to transfer information to Earth from space; the Vegetable Production System (VEGGIE), a unit capable of producing salad-type vegetables in space; and the T-Cell Activation in Aging experiment that seeks the cause of a depression in the human immune system while astronauts are in microgravity. In addition, the High Definition Earth Viewing (HDEV) investigation includes four high-definition cameras to be placed on the space station's exterior for use in streaming live video of Earth for online viewing.
Charles Bolden Visits Marshall, Views Space Launch System Progress
 NASA Administrator Charles Bolden toured on March 14 the agency's Marshall Space Flight Center in Huntsville, Ala., where testing is underway on the avionics unit for the largest, most powerful rocket ever built. At Marshall's System Integration Laboratory, Bolden, along with staff from Alabama's congressional delegation and community leaders, had the opportunity to view the Space Launch System (SLS) avionics unit arranged in flight configuration, along with booster hardware, which are being integrated and tested together to ultimately guide the entire vehicle.
He also watched flight software simulations of how SLS will perform during launch. It's great to be back at Marshall and see, firsthand, the impressive progress made by the SLS team," said Bolden. "SLS will help take American astronauts an asteroid and Mars, and it all starts here in Huntsville. My hat's off to the entire team for their hard work."
The completed rocket will stand 321 feet tall and include the core stage, which stores the cryogenic liquid hydrogen and liquid oxygen that will fuel the vehicle's four RS-25 engines and, with two five-segment solid rocket boosters, power the rocket. The avionics unit — including its hardware, software and operating systems — will guide the rocket to deep space destinations, including an asteroid and Mars. The flight computers will be housed in the SLS core stage, while other avionics are distributed throughout the vehicle. 
Engineers from NASA and Boeing, the prime contract for the SLS core stage and avionics, integrated and powered up the core stage avionics unit for its initial run, called "First Light," in early January and have since been running numerous tests using the latest flight software. "This is a significant and exciting milestone for both NASA and Boeing," said Lisa Blue, stages avionics system manager in the SLS Program Office. "We are using and testing technologies that include the most powerful computer processor ever used in a flight system." 
In 2015, the avionics unit will be shipped to NASA's Michoud Assembly Facility in New Orleans, where the core stage is being manufactured, and attached to the actual rocket. For its first flight test in 2017, the SLS will be configured to lift 70 metric tons (77 tons), and carry an uncrewed Orion spacecraft beyond low-Earth orbit. In its final stage of evolution, the SLS will provide an unprecedented lift capability of 130 metric tons (143 tons) to enable missions even farther into our solar system. Marshall manages the SLS Program and Michoud Assembly Facility. Credit: NASA
Swiss Company to Use KSC Center As Shuttle Landing Facility
 Swiss Space Systems (S3) inaugurated on Friday its new U.S. subsidiary, S3 USA Operations (Florida) Inc., at the Kennedy Space Center (KSC). S3 has also signed a Memorandum of Understanding (MOU) with Space Florida for future utilization the Shuttle Landing Facility (SLF) and associated infrastructure for its flight operations, which are slated to begin in 2015 with zero gravity flights. S3 will also evaluate the SLF as a main site for satellite launches beginning in 2018.
Swiss Space Systems currently has more than 60 employees in Switzerland, Spain and the U.S. S3's engineering team, supported by its industrial and academic partners, is steadily progressing on the research and development phase of an innovative small satellite launching system, the SOAR, based on an Airbus aircraft lofting the sub-orbital reusable shuttle on its back. S3 has already established an initial footprint at the Kennedy Space Center, leasing offices at Space Florida's Space Life Sciences Laboratory (SLSL) in Exploration Park. The establishment of this new subsidiary further reinforces S3's presence in the United States, after the creation of the S3 USA office in Washington DC.
Frank DiBello, CEO and President of Space Florida stated, "We are pleased to welcome Swiss Space Systems to Florida. We believe strongly in the enormous potential of the markets they are pursuing including small satellites and suborbital operations. We look forward to working with S3 to enable their growth and expansion in our state."
 Space Florida has been working with KSC and Cape Canaveral Spaceport to repurpose excessed government infrastructure for commercial use, providing a significant time and cost saving advantage to commercial operators. In 2013, Space Florida was selected by NASA to maintain and operate the Shuttle Landing Facility (SLF) for commercial use, the historic 15,000 ft. launch and landing facility previously utilized for the Space Shuttle Program. "For S3, Florida offers several major advantages, including a strategic geographic location, as well as access to key infrastructure and human resources, which will help to enable our success," stated Pascal Jaussi, Founder and CEO of Swiss Space Systems.
 The Kennedy Space Center is one of the locations S3 will evaluate as a main site of operations for small satellite launches, starting in 2018. In the near term, S3 will propose zero gravity (Zero G) flights onboard its latest-generation Airbus carrier aircraft in Florida starting in 2015. These flights will enable passengers and payloads to experience weightlessness like astronauts do in space, during approximately 20 seconds per parabolic flight, with a basic flight "mission" consisting of approximately 15 parabolas during a 2-hour flight. Throughout 2015, S3 will conduct a world tour of Zero G flights, operating in more than 15 locations around the world, including the Kennedy Space Center. Credit: s-3.ch
Orion's Exploration Flight Test-1 Slips to December
 Orion is marching ever closer to its first trip to space on a flight that will set the stage for human exploration of new destinations in the solar system. The Orion team continues to work toward completing the spacecraft to be ready for a launch in September-October. However, the initial timeframe for the launch of Exploration Flight Test-1 (EFT-1) has shifted from September-October to early December to support allowing more opportunities for launches this year. Completing the spacecraft according to the original schedule will allow many engineers and technicians to continue transitioning to work on the Orion spacecraft that will fly atop the agency's Space Launch System. It will also ensure that NASA's partners are fully ready for the launch of EFT-1 at the earliest opportunity on the manifest.
To that end, the core and starboard boosters for the United Launch Alliance Delta IV Heavy rocket that will launch Orion into space for the first time arrived at Cape Canaveral Air Force Station this month. That leaves just one booster still in production at the company's Decatur, Ala., facility. It's scheduled to arrive in April along with the rocket's upper stage, and will join the other boosters inside ULA's Horizontal Integration Facility for processing and testing. Meanwhile, in the spacecraft factory at Kennedy Space Center – the Operations and Checkout Facility – Orion itself is making progress of its own.
 After completing construction on the service module in January, engineers at Kennedy moved on to testing whether it could withstand the stresses that it will endure during launch and in space. The service module sits below Orion's crew module and above the rocket, and would normally provide power and in-space propulsion and house a number of other systems that aren't needed on this first flight. Despite being pushed and twisted in multiple directions, the service module came through the tests not only unscathed, but earlier than planned. Once the service module testing was completed, it was the crew module's turn.
 Almost all of the spacecraft's avionics components have been installed, and system by system, the engineers are powering them up. It's a methodical, deliberate process, in which each connector is checked individually before they're hooked up and the system turned on to make sure each battery, heater, camera and processor – to name a few – works on its own, before the entire system is turned on together. Otherwise, one faulty cable could damage an entire, one-of-a-kind system. The process is called functional testing, and once it's complete and all 59 systems have been verified, the engineers will graduate to performance testing, in which all of the systems work together to operate the crew module as a whole. Ultimately, they'll be able to turn on all of the flight computers, radios and other systems at once and simulate the vehicle's sensors so that the spacecraft thinks its flying in space.
 The crew module testing will wrap up in April, and then Orion's heat shield – the largest of its kind ever built – will be installed. With that in place, the crew module, service module and launch abort system will be ready to mate this spring. Its launch later this year will send Orion 3,600 miles above the Earth for a two-orbit flight that will give engineers the chance to verify its design and test some of the systems most critical for the safety of the astronauts who will fly on it in the future. After traveling 15 times farther into space than the International Space Station, Orion will return to Earth at speeds near 20,000 mph, generating temperatures of up to 4,000 degrees Fahrenheit, before splashing down in the Pacific Ocean. Credit: NASA
President Obama Launches 'Cosmos', the Show Dazzles in Debut
 More than three decades after "Cosmos" first came to television, President Barack Obama kicked off the 21st-century version of the show with a tribute to astronomer Carl Sagan.
"America has always been a nation of fearless explorers, who dream bigger and reach farther than others imagine," Obama said in a 30-second clip that led off Sunday's premiere. "That's the spirit of discovery that Carl Sagan captured in the original 'Cosmos.'
The new, updated version of Carl Sagan's popular 1980 documentary series exploring the hows, whats and whys of the universe, premiered Sunday night on Fox, the National Geographic Channel and various corporate cousins. Its "ship of the imagination" – a vehicle to take viewers through wonders large and small – now has a new captain, astronomer Neil deGrasse Tyson, but the reaction to the show's debut shows that entertaining, informative science never goes out of style.
"With the President of the United States participating in the rollout of a scientific adventure, I think there is no better evidence that we do have a future that we can dream of," Tyson said. This isn't the first time President Obama has endorsed science programming. He also appeared on "Mythbusters," where he challenged Adam Savage and Jamie Hyneman to re-test the myth of Archimedes' solar death ray.
"I'll be eagerly tuning in for future episodes," wrote the Los Angeles Times' Jennifer Ouellette, praising Tyson as "affable" and "engaging" and noting the debut episode's lively use of ideas — such as the "powers of 10″ – that could turn to cliché in other hands. "Tonally the show strikes just the right balance between education and inspiration," wrote The Verge's Bryan Bishop, though adding that he believed the premiere tried too hard.
"It feels like it's missing its own point: that the greatest wonders aren't CG (computer generated) spectacle, but our own marvelous universe," he wrote. Science fans — and fans of the original series — have been awaiting the new "Cosmos" for months. The show has the imprimatur of Sagan's widow, Ann Druyan, and is being produced by "Family Guy" mogul Seth MacFarlane, an avowed "Cosmos" geek.  Through it all, Tyson has maintained his good humor as he's promoted the show. "The universe is hilarious!" he told GQ in a recent interview. "Like, Venus is 900 degrees. I could tell you it melts lead. But that's not as fun as saying, 'You can cook a pizza on the windowsill in 9 seconds.' And next time my fans eat pizza, they're thinking of Venus!"
Gen. William Shelton: U.S. Must Respond to Military Threats in Space
 The nation must commit to protecting and improving military spacecraft critical to future conflicts amid growing threats and budget pressure, the head of Air Force Space Command said today in Cape Canaveral. "We as a nation have to decide how we're going to respond to the threats that we see coming down the pike in space," Gen. William Shelton told the National Space Club Florida Committee's monthly meeting. "It's a very complex and increasingly contested environment, and we've got to respond."
Shelton congratulated the Space Coast, particularly United Launch Alliance, on its contribution to an "unprecedented" string of 68 consecutive successful national security launches.   He said SpaceX has completed one of three missions needed to earn certification to compete for national security launches, and the Air Force was waiting on data for two more launches. 
But he said SpaceX's success launching food and other cargo to the International Space Station for NASA – another is planned early this Sunday from Cape Canaveral – was not the same level of importance as national security satellites. "That doesn't represent the catastrophic loss much like a national security payload failure would represent a significant loss to the nation," he said. "So there's a big difference."Credit: floridatoday.com 
---
 United States and North American News
Spacewalk May Be Needed to Fix ISS Computer Breakdown (Source: Independent)
A computer breakdown on the International Space Station could require astronauts to undertake a spacewalk. NASA confirmed on Friday that a backup computer on the exterior of the ISS called a Multiplexer-Demultiplexer (MDM) is not responding to commands.
MDM computers control some systems associated with robotics aboard the space station. The primary MDM is functioning normally, NASA said, and Mission Control is now trying to determine whether the back-up computer can be brought back online or must be replaced. A replacement would involve astronauts spacewalking. (4/12)
ISS Issue Might Delay SpaceX Launch (Source: Waco Tribune)
The often-delayed launch of SpaceX Dragon cargo ship to the International Space Station, set for Monday afternoon, may be delayed yet again after a problem crept up with a computer module on the station. The Multiplexer-Demultiplexer, or MDM, stopped responding to commands, NASA said in a statement Friday evening. The unit, mounted outside the ISS, backs up the main MDM in robotic-arm operations — such as the one that will be needed to attach the Dragon to the station upon its scheduled arrival Wednesday.
According to a NASA statement: "NASA is continuing to work toward a Monday launch of the SpaceX cargo resupply mission pending further evaluations by the ISS Program." (4/12)
The Otherworldly Ambitions of Elon Musk (Source: San Jose Mercury News)
Elon Musk reigns over an entrepreneurial landscape of epic proportions: With Tesla Motors, the cherub-faced CEO wants to wean us off fossil fuels with electric cars for the masses. With SolarCity, he envisions panels blooming on a million rooftops. And even as the fortunes of these two firms soared on the SV150, this newspaper's latest index of Silicon Valley's top public tech companies, Musk was laying the groundwork for the world's biggest battery factory.
Yet this 42-year-old planet-saving, big-dreaming engineer has his sights on a celestial prize: Mars. With SpaceX, the rocket company he founded in 2002, Musk hopes to employ recyclable rockets to save humanity, blasting earthlings into space to one day build settlements on the Red Planet. "Mars is what drives him," said Louis Friedman, an astronautics engineer who has known Musk for a decade.
Don't bet against him. Silicon Valley's most intrepid CEO already has employed his potent combination of vision, determination and attention to detail to accomplish two tasks widely thought impossible: creating a viable new American car company with Palo Alto-based Tesla, and a successful private space venture with Hawthorne-based SpaceX. Click here. (4/11) 
SpaceX, A Somewhat Critical Look (Source: IEET)
I've been a bit baffled recently by the enthusiasm that so many friends and colleagues have been displaying for SpaceX and the whole idea of commercial space "exploration." I don't get it. I don't doubt that what SpaceX is doing, and what surely other commercial companies will soon follow suit in doing, is important, and yes, even historical. But I seriously doubt that it has much to do with space "exploration."
More likely it is space exploitation. Don't get me wrong: space is, to some extent, a resource for humankind, and it is perfectly reasonable for us to exploit it. And history has certainly shown that the best way to accomplish that sort of task is to hand it to the private sector (of course, that's not at all without potentially extremely serious drawbacks in and of itself, but that's another story).
What history has also clearly shown is that basic science and exploration are best done by scientists who work without the constraints of financial interests, and these days this means government funding (in Galileo's time it was the government too, but in the form of some rich nobel family running the city). Click here. (4/10)
XCOR Aerospace Hangs Sign on Texas Hangar (Source: Permian Basin 360)
An XCOR Aerospace sign is now mounted on a hangar in Midland International Airport, a sign of things to come. "We're gonna have a lot of our employees here 10, 12 hours a day. It's a 60,000 square foot space and there's a lot of room in there," said Brad Hartman, commercial division manager and master electrician for Electrical Maintenance & Construction.
Brad Hartman, from electrical maintenance and construction put in a bid with the general contractor, Western LLC, to do the work for XCOR. If EMC is the company chosen to do the electical work for XCOR, Hartman says it'll be a challenging but exciting job. "We're bringing high quality jobs into this area for engineers and for scientists that are really going to move us and diversity our economy and also make Midland International a more vibrant airport," said Midland City Councilman for District 4 J. Ross Lacy. (4/11)
KSC Visitor Complex Offers Youth Summer Camps (Source: KSCVC)
Camp Kennedy Space Center offers campers in grades 2-11 unique adventures and learning activities that can't be found anywhere else. This year's theme – Space Shuttle Atlantis: From Sketch Pad to Launch Pad – focuses on the orbiter and the historical impact of its 33 missions into space.
Along with many other activities, campers will experience the new home of Space Shuttle Atlantis, participate in a simulated Space Shuttle Mission, engage in Science, Technology, Engineering and Math (STEM) activities, learn hands-on about the science of space travel, and hear real-life stories from a shuttle astronaut. Camp KSC runs Monday through Friday for nine weeks beginning June 9 and costs $295 per week per camper. For more information, call 866-870-8285 or click here . (4/11)
Human Lunar Missions Subject of Debate at Exploration Workshop (Source: Space News)
While a dozen space agencies, including NASA, have agreed upon a Global Exploration Roadmap that lays out general plans for human missions leading up to Mars, an April 10 workshop revealed continued disagreement on the best way to get there, particularly regarding the role of human missions to the surface of the Moon.
The NASA Community Workshop on the Global Exploration Roadmap, held at the Applied Physics Laboratory here, brought together representatives from NASA, industry and other space agencies to discuss the updated version of the roadmap. That report, released last year by the International Space Exploration Coordination Group (ISECG), a group of 12 space agencies, outlined pathways for human exploration leading to humans on the surface of Mars.
"We all agree that, as a common, long-term goal, humans on the surface of Mars is something we all strive for," said NASA's Roland Martinez. In between the ISS and Mars, the report identifies three "mission themes" for missions that eventually lead to Mars: missions to near-Earth asteroids, the vicinity of the Moon and the surface of the Moon. However, the sequence and schedule of missions in those three areas remains unclear. (4/11)
ULA, SpaceX Lobby Up as Launch Competition Looms (Source: Space News)
As they vie for hundreds of millions of dollars in national security launch contracts, incumbent United Launch Alliance and newcomer SpaceX have more than doubled their lobbying expenses in recent years. According to data provided by the Center for Responsive Politics, United Launch Alliance spent about $670,000 on lobbying efforts in 2013. That figure is up from the $120,000 the company spent in 2010, according to the site.
SpaceX spent $1.1 million on lobbying in 2013, including hiring former U.S. Sens. John Breaux and Trent Lott. The company's lobbying costs have risen steadily from about $568,000 in 2010. The higher spending by both companies comes as lobbying spending across the defense aerospace industry has shrunk. SpaceX's lobbying costs are far less than those of ULA's parent corporations. ULA is a joint venture of defense giants Boeing and Lockheed Martin. Combined, the two companies spend roughly $30 million annually on lobbying efforts. (4/11)
International Day of Human Space Flight, Cosmonautics Day in Russia (Source: RIA Novosti)
Russia celebrates Cosmonautics Day every April 12. This holiday was instituted by the April 9, 1962 executive order of the Presidium of the USSR Supreme Soviet (Parliament) in honor of the first manned space flight. On April 12, 1961, a launch vehicle orbited the Vostok spacecraft with the first cosmonaut, Soviet citizen Yuri Gagarin, on board. (4/12)
Putin Hopes For Further Cooperation With Committee on Space Research (Source: RIA Novosti)
Russian President Vladimir Putin expressed hope that Russia will continue its cooperation with the Committee on Space Research (COSPAR) during a meeting with the president of the organization on Friday. "The organization which you are heading is one of the world's most reputable ones in the field of cooperation on space research," the Russian leader said.
"We greatly hope that Russia will continue effectively working and helping all its partners, both Russian and from other counties, in your very hard but interesting and noble work," Putin told Giovanni Bignami, the president of COSPAR, while visiting the Cosmonautics Memorial Museum in Moscow. (4/11)
Space Tourism: Commercial Flights into Space Throughout the Years (Source: Itar-Tass)
In this photo gallery by ITAR-TASS you will find two parts: the first one features the very first non-professional people to fly into space, and covers the time from 1985 to 1991; the second part features space tourists to fly to the International Space Station from 2001 to 2009. Click here. (4/12)
Solar Array Issue Will Have Little Impact on DMSP Mission (Source: SpaceFlight Now)
U.S. Air Force officials say a partially deployed solar array boom on a new military weather satellite will have "negligible" impact on the $518 million spacecraft's planned five-year mission. The polar-orbiting weather observatory for the Defense Meteorological Satellite Program was shot into space April 3 on an Atlas 5 rocket, but it ran into a problem extending its solar array boom.
The satellite's 10 solar cell panels, affixed on either side of the boom, generate electricity for the spacecraft's systems and weather instruments. "The team is currently working through a single anomaly affecting the solar array boom," a spokesperson said. "The boom successfully deployed, but stopped approximately 30 degrees short of its nominal position, and did not lock into place." (4/12)
Georgia Spaceport: The Transformation of a Company Town (Source: The Atlantic)
During the administration of the former submarine officer and former Georgia governor Jimmy Carter, and with Georgia Senators Sam Nunn and Herman Talmadge then big powers on Capitol Hill, the U.S. Navy decided that Kings Bay, immediately north of St. Marys, would be the East Coast home of America's nuclear-submarine fleet. (The West Coast home is near Seattle.)
— And looking toward space. The commercial space-launch business is growing. According to local officials, this part of Georgia was in the running when Cape Canaveral was chosen as NASA's main site in the mid-20th century. And so they are making a 21st-century push to build a new "spaceport" in a former industrial area (and one-time Thiokol rocket-test site) just north of town, where companies like SpaceX would be able to launch their vehicles. Click here. (4/12)