Solar Storms Smash Into Earth
 A pair of unusually large solar flares on the weekend generated a Coronal Mass Ejection that reached Earth around mid-day Saturday. ( AEST) It will likely cause at least a strong geomagnetic storm that could affect satellites in space and trigger auroral displays.
 
The effects at ground level are expected to be limited, but there is a good chance for some excellent auroral displays in the north. The extra-large two solar flares threw off a huge cloud of magnetised plasma from the Sun's atmosphere – the corona – into interplanetary space.
These Coronal Mass Ejections (CMEs) often occur in association with a solar flare. These dramatic events were detected by the ESA/NASA SOHO and NASA SDO spaceborne solar observatories. Together with other space organisations, ESA experts are closely monitoring the storm.
The two flares followed an earlier flare, which occurred on 04:05 GMT on 5 March. All three came from a new active region on the Sun that was first detected on 2 March.
The plasma cloud left the Sun at an estimated 2300 km/s – unusually fast. However, the angle combined with deceleration from the background solar wind means that it is expected to arrive some hours later than this initial estimated speed alone would indicate.
 
In addition, a strong stream of high-energy protons has been generated. This 'storm' of subatomic particles was created by the shock wave ahead of the CME. "It is therefore likely that satellites orbiting Earth will experience increased radiation levels as a result," says Juha-Pekka Luntama, Head of Space Weather in ESA's Space Situational Awareness office.
 
"Space radiation levels are expected to remain high throughout 8 March and possibly for one to two days longer." "In addition, the arrival of the geomagnetic storm could affect systems including GPS navigation satellite signals and satellite communications."
 
The Venus Express spacecraft, now orbiting Venus and much closer to the Sun than Earth, was affected by the radiation on 7 March. The startracker cameras that help Venus Express measure its position and orientation in space were 'blinded' starting at 01:41 GMT.
"The Mission Control Team has taken the startrackers out of service and is maintaining the spacecraft's attitude using gyroscopes until the solar effects fade," says Octavio Camino, Venus Express Spacecraft Operations Manager at ESA's European Space Operations Centre in Darmstadt, Germany.
 
Alexi Glover, an ESA space weather scientist, says that the solar region causing the current activity has a complex magnetic configuration and is now close to the centre of the Sun's disc. "So there is a good chance of more large events in the coming days," she notes.  Source: ESA
* Just added 10 March 6am (AEST) INCOMING CME: As Earth's magnetic field reverberates from the impact of one CME on March 8th, a second CME is on the way.  Big sunspot AR1429 unleashed an M6-class solar flare today, and the eruption hurled a cloud of plasma almost directly toward Earth.  Forecasters say the CME could reach our planet during the late hours of March 10th or early hours of March 11th. Strong geomagnetic storms are possible when the cloud arrives. 
* Latest Update: INCOMING CME: A CME launched from the sun on March 9th is nearing Earth. According to analysts at the Goddard Space Weather Lab, the cloud will arrive on March 11th at 0649 UT (+/- 7 hr). High-latitude geomagnetic storms are possible when it arrives.
The Classification of X-ray Solar Flares
or "Solar Flare Alphabet Soup"
A solar flare is an explosion on the Sun that happens when energy stored in twisted magnetic fields (usually above sunspots) is suddenly released. Flares produce a burst of radiation across the electromagnetic spectrum, from radio waves to x-rays and gamma-rays. [more information]
Scientists classify solar flares according to their x-ray brightness in the wavelength range 1 to 8 Angstroms. There are 3 categories: X-class flares are big; they are major events that can trigger planet-wide radio blackouts and long-lasting radiation storms. M-class flares are medium-sized; they can cause brief radio blackouts that affect Earth's polar regions. Minor radiation storms sometimes follow an M-class flare. Compared to X- and M-class events, C-class flares are small with few noticeable consequences here on Earth.
WHAT DOES A SOLAR FLARE SOUND LIKE?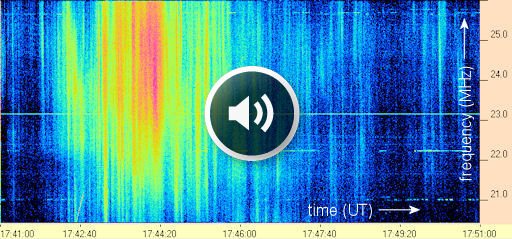 Dynamic spectrum courtesy Wes Greenman, Alachua County, Florida
(Above) Saturday's M8-class flare hit Earth  with a burst of strong shortwave radio emissions.  New Mexico amateur astronomer Thomas Ashcraft recorded a series of radio bursts at 21 and 28 MHz:
At the peak of the disturbance on March 9th, Northern Lights were spotted in the United States as far south as the Dakotas, Minnesota, Wisconsin, Oregon, Wyoming, Illinois, Montana, and even Kansas.(click on states to see images)  The finest displays, as usual, were reserved for Alaska below:"Almost immediately after sunset, the sky began to fill with ribbons of auroras above Chena Hot Springs (just outside Fairbanks) in Alaska," reports photographer Christopher Freemantle. "The intensity grew until very bright, multicoloured and fast moving auroras were visible." Cr. SpaceWeather.com
SPACE WEATHER ALERTS:  Would you like a call when geomagnetic storms are in progress? Aurora alerts are available from http://spaceweathertext.com (text) and http://spaceweatherphone.com (voice).
Lights In The Sky
 An auroral display sparked by the Sun's recent outbursts was captured by photographer Antti Pietikäinen in the sky over Muonio, Finland, on March 11, 2012. Watch this short but oh-so-sweet video and wish you were there!
  Can Solar Storms Unleash Communications Chaos?
Today, we humans are a very long way from our pre-electronic ancestors. We are attached to the electronic toys that we enjoy and use: the GPS unit that finds a street in an unfamiliar city, the smart phone that is a camera as well as a dictionary as well as giving access to the internet, and even the accurate watch you wear on your wrist.
But what if they were all to suddenly die?
Welcome to the superstorm, when the Sun decides to have a hissy fit! Welcome to the Carrington Event!
About one-and-a-half centuries ago, an independently wealthy English astronomer, Richard C. Carrington, was following his normal daily habit of observing the Sun. He had already discovered that the Sun rotated faster at the equator than at the poles.
On August 26, 1859, the Sun had thrown a few billion tonnes of super-hot gas directly at the Earth. The impact with the Earth's magnetic field and the upper atmosphere was so huge, that over the next few days people saw auroras, not just near the poles, but as close as 25° to the equator.
In addition, there were major hiccups in the Earth's magnetic field and huge amounts of noise in the telegraph system, so much noise that it took 14 hours to send a mere 400 words. However, as is the nature of such things, it all began to wind down.
But, on 1 September, 1859, Richard Carrington saw enormous sunspots on the Sun, so huge that they were easily visible without a telescope. Suddenly, at 11:18am, they flared into an unexpected and white-hot fury. He didn't know it, but another super-hurricane of super-hot — and super-fast — gas had just been thrown at the Earth.
About 17 hours later, travelling at 2380 kilometres per second, it hit. Nobody had ever described auroras like these. They were so bright that people awoke at 1:00am thinking that the dawn was coming.
The auroras threw shadows, and you could read tiny print by their light. They got to within 18° of the Equator, being easily visible in Hawai'i and Panama. Charged particles almost instantly destroyed five per cent of the ozone in the atmosphere, and the ozone took four years to recover.
The magnetic storm set off huge currents in the ground, which invaded the long telegraph lines. Telegraph operators were nearly electrocuted dead by the long, violent sparks erupting from the handsets. And several telegraph stations burnt down.
If the Carrington Event happened today, nearly 10 per cent of the 1000-or-so working satellites in orbit would stop working. That's an immediate $100 billion cost right there. Banks rely on the super-accurate time signals from the GPS satellites, so then you couldn't get your money.
Now the electrical grids around the world are mostly old, fragile and overloaded. In the USA alone, minor solar storms already cause breakdowns to the grid that increase the cost of electricity by $500 million every 18 months. But a Carrington Event, when the Sun had a major hissy fit, would kill the entire electrical grid of North America.
Any astronauts in orbit would not die from radiation poisoning, but they would get a 70-year lifetime radiation dose in just a few hours. And computers and similar sensitive electronic equipment all over the planet would die from electrical spikes inside their delicate low-voltage circuits.
Something as huge as the Carrington Event is expected every 500 years or so. Recent solar storms have killed satellites in space and power transformers in North America. The solar storm of Bastille Day in 2000 AD, expanded the Earth's atmosphere so much that the International Space Station, instead of losing 40–90 metres of altitude each day, suddenly lost 15,000 metres.
What can we do? The first thing is to know what's happening. In the USA, the Space Weather Prediction Center gives daily space weather reports. But its budget is about 1/1000th of one per cent of the revenues generated by the industries it supports.
At the moment, we have one single satellite, the Advance Composition Explorer, giving us 10–20 minutes' warning of a Solar hissy fit. It floats at just one per cent of the distance between us and the Sun. But it's 15 years old (incredibly ancient for a satellite) and it's also the only one of its kind.
Any future satellites that we send up may need to slip, slop and slap.  Source: ABC Science
Related articles