Beam Your Message to Mars
The people over at Uwingu have a really cool new fund-raiser effort going called "Beam Me to Mars". Its a unique project and one that will tantalize and excite the imagination of any avid Red Planet enthusiast.
The idea is this: in exchange for a donation that goes to support science research and education, you can beam a message to the planet Mars on November 28, 2014. That's the 50th anniversary of the first-ever Mars mission, launched on November 28, 1964. Everybody's messages will go to Mars as a stream of transmissi0ns via radio communications.
Uwingu has already amassed an amazing collection of messages from such varied folks as Astronaut Chris Hatfield, Bill Nye, Dr. Maria Zuber, the famous Mars Curiosity "Mohawk" Mars guy Bobak Ferdowski, Dr. Lori Garver, writer Dava Sobel, and many others.
In addition, Uwingu's Youtube channel will be featuring a neat array of videos from various supporters sharing their ideas about missions to Mars and why they support the "Beam Me to Mars" effort. I think this is a pretty snazzy effort, and pleased to see so many other folks hopping on the bandwagon. It's the sort of effort that really captures the imagination! I mean, think of it — YOUR words and message going to Mars! It takes me back to the days when I played "Missions to Mars" as a little kid.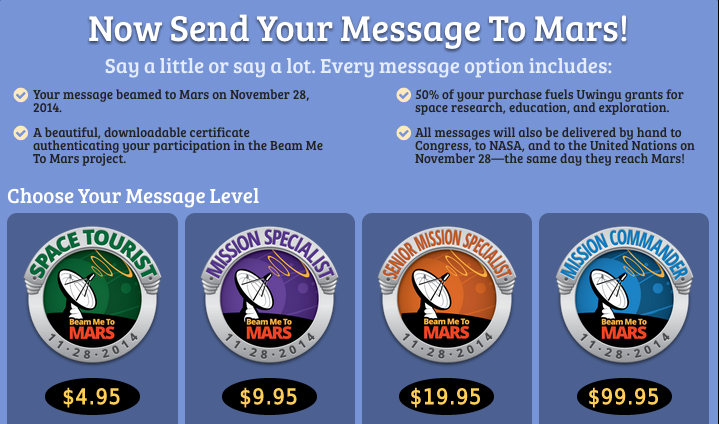 So, how do you participate? Go to Uwingu.com and select "Beam me to Mars". Your message can be as simple as your name, or you can wax philosophical and even include images. You can send as many messages as you want, and prices start at $5.00. You have from now until November 5th,2014 to get your message(s) entered.
All the messages will be sent at a rate of a million bits per second to Mars by Uwingu's "Beam Me" transmission partner, Universal Space Network (a satellite communications provider). Messages will also be published on Uwingu's Web page for other Mars fans to see.