Buzz Aldrin's Campaign To Mark Moon Landing Anniversary
On July 20, 1969, two astronauts emerged from the Apollo 11 capsule to make history and become the first men on the moon. It's hard to believe its 45 years ago.  We all rememember where we were. 
An estimated 600 million people watched Neil Armstrong and Buzz Aldrin step onto the moon's surface on that day. Aldrin, now 84, is asking for people around the world to help commemorate the 45th anniversary of the moon landing by sharing their memories on social media. So where were you? When did you first learn about the mission?
That question are the basis of a star-studded social media campaign that was launched this week to commemorate the July 20 anniversary. Pharrell Williams, John Travolta, Jared Leto, Stephen Colbert, Tim Allen and Sir Richard Branson are just a few of the stars participating in the campaign, and people everywhere are invited to upload their own stories and videos and share them on YouTube, Facebook, Twitter, Google+ and Instagram, using the hashtag #Apollo45.
In a YouTube video announcing the project, Aldrin invites people to share stories of where they were on July 20, 1969 via YouTube, Facebook or Twitter. For those who were not yet born, he says feel free to talk about how the moon landing inspired you.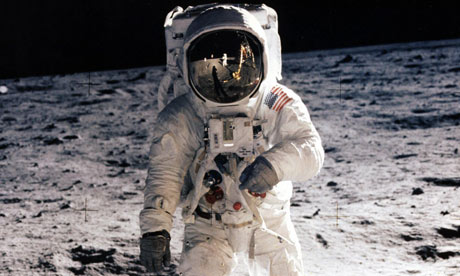 "Kids, help your parents if they don't know how to use their smartphones," Aldrin said in the video. The anniversary comes at a time when NASA's budgets and funding are in the spotlight, although Aldrin is optimistic about future space exploration efforts. First of all, he sees spacecraft as an opportunity to "inspire the expansion of other US/China cooperation." 
As the Communist country develops its own space station and both China and the U.S. plan for exploration of the moon and beyond, Aldrin says now is the time to build the proper relationships for future cooperation. Space could thus function as the "high ground" to develop this trust, he said. 
On Reddit, Aldrin answered questions about colonizing Mars, Elon Musk, his favorite movies about space and his appearance on "30 Rock."  Watch Aldrin's video inviting the world to share your moon landing memories or how Apollo inspired you at http://YouTube.com/Apollo45  Use #Apollo45
"Returning to the Moon with NASA astronauts is not the best usage of our resources. Because our resources should be directed to outward, beyond-the-moon, to establishing habitation and laboratories on the surface of Mars that can be built, assembled, from the close-by moons of Mars." Aldrin said. "With very little time delay – a second or less. Much better than controlling things on the Moon from the Earth. So when NASA funding comes up for review, please call your lawmakers to support it." 
The Moon walker also has high hopes for a hybrid human/robotic mission by 2025, with the intent to investigate an asteroid and offer an opportunity to demonstrate our new technological capabilities while benefiting science. 
"Both a human crew and robotic crew (need to target) the same asteroid. If we just did a robot crew, that has significant limitations," Aldrin said. "Just a human mission could take pictures for 60 days and come back, but that's not very complete. Combining the missions, it would be very beneficial.
" He also gave advice for the crew of a future mission to Mars: "Realize that you are perhaps the most ambitious, the most historical pioneers that the Earth has produced since its beginning. And you are given a great honor in spending the rest of your lives pioneering for mankind. AND HAVE FUN!"  redit: foxnews.com, cbsnews.com, latimes.com