Saxon 1149EQ – 114mm Reflector Telescope
A good introductory telescope for Beginner Level astronomy & those on a budget – Good performance on the moon, planets, stars, & star clusters.
Are you looking for an astronomy telescope that's excellent for the beginning astronomer or a telescope for a curious adult? Then take the time to look at the Saxon 1149EQ – 114mm Reflector Telescope system. The Saxon 114mm Reflecting telescope is meant for astronomy. This means the Saxon 1149EQ Newtonian Reflector telescope is capable of reach a limited stellar magnitude of 12.8 and has a practical magnification limit of 337X. Since light gathering power is important to astronomical applications, you'll be pleased to know this budget minded telescope gathers 125% more light than 76mm telescope and 165% more light than a 70mm scope.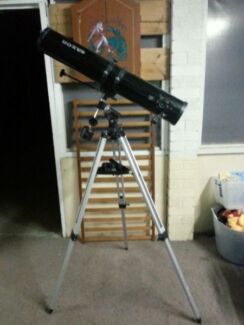 What can you expect to see with a Saxon 114mm reflector telescope? You'll enjoy well resolved views of the Moon's cratered surface and explore its mountain ranges and dark maria. Jupiter will reveal its major equatorial bands, the "Great Red Spot" and the four Galilean moons circling it.
Saturn will show it has a ring system and its moon – Titan. When Mars is close, you'll see dark patches on its surface and the gleam of its polar caps.Neptune and Uranus will show their pale coloured discs. Point the Saxon 1149EQ – 114mm Newtonian reflector telescope towards bright star clusters and watch the stars resolve like bright fireworks.
See the vague clouds of distant nebula and take in the light of larger, brighter galaxies. The Saxon 114mm reflector is a great way to spark astronomy interest in anyone – from an older child to a curious adult! For many, this is the perfect sized telescope – meant for a lifetime of exploration and enjoyment.
The Saxon 114mm Reflecting Telescope System is ready to go, right out of the box. You'll get a 5X24 finderscope to help you locate subject matter, and the stable equatorial mount is easy to learn and easy to use. Just add any of the three included eyepieces and it's time to view.
What's more, you get a bonus 1.5X image upright eyepiece to make the Saxon 114mm Reflector suitable for terrestrial viewing and there are charts and software, too!
** This is good quality and affordable pricing for a top telescope! Perfect telescope for the beginning astronomer and intermediate level amateur. Features a sturdy German equatorial mount with slow motion controls on both axes for tracking. Includes adjustable aluminium tripod with accessory tray. Includes factory backed limited five year warranty.
This is a Special Offer
---

Saxon 709EQ Special Package 70mm Refractor Telescope
This is our Xmas Special Number #2 – Budget introductory refractor style telescope for Beginner Level astronomy & those on a budget. Good performance on the moon, planets, stars, double stars & star clusters. Yes, its suitable for whale watching as well…or any daytime use.
Do you want to buy a telescope that's perfect for a space savvy child?
How about a telescope that's suitable for the beginner Dad to astronomy?
Are you interested in practising some casual astronomy but don't want to invest a lot?
Would a telescope that's great for both celestial and land applications be right for you? Then take a closer look at the Saxon 709 EQ – 70mm Refractor Telescope System!
The Saxon 70mm Refractor telescope is a durable steel tube, achromatic design. It is manufactured with a 70mm lens which has multi-coatings to produce clear, bright images with a minimum of reflections. It has a 900mm focal length and operates at an f/10 focal ratio – meaning it is capable of higher magnifications and gets you up to 350X closer to the action!
The telescope has 36% greater light gathering capacity than traditional 60mm scopes and its 1.25″ rack and pinion focuser sets it above most beginner models. You'll appreciate the 5X24 optical finder scope making for viewer comfort.
Saxon 707 AZ2 – 70mm Refractor Telescope System Features…
* Multi-coated optics for clear, bright images with good colour correction and reduced reflections. * Standard 1.25″ focuser accepts most astronomical eyepieces and accessories. * Sturdy AZ2 alt-az mount with manual vertical control * Durable, adjustable height aluminium tripod with accessory tray ..and more!
What can you expect to see with a Saxon 709EQ Refractor Telescope? The Moon will reveal detailed craters and bright mountain ranges. You'll sail across dark maria and follow bright ray systems. Jupiter will show its equatorial zones and the Galilean moons. Saturn will have hints of its ring system and you can follow the phases of Venus and Mercury. When Mars is close, you'll see its rusty colors! Bright star clusters will show individual members and large nebula will curl across starry backgrounds. Don't forget colourful stars!
The Saxon 70mm Refractor Telescope is as at home on land as it is in the sky. Use it for birding or to view distant wildlife. Watch ships at sea or spot scenery. It can also be used as a surveillance telescope, getting you closer to that remote person or outlying building. Includes Saxon Australia Pty Ltd five year warranty.
This is a Special Offer
---
We Bought a Limited Number Of Each And You Get The Benefit Of Our Bulk Buying
You are under NO obligation to buy and you can blast us with as many questions as you like. We'll work with you to establish your preferred delivery dates if you decide to buy plus arrange special delivery times if its a surprise present. We'll also quote your postage for your particular area. IF you are keen then don't hesitate- these will sell quick. Just contact us below.
 ** Sorry…This Offer For Australia Only
---

A
s stock is definitely limited . All orders are on a first come, first served basis. Hit the 'Contact ' Button (left) – An email page will open up. Tell us what scope you like, leave your name and include a PHONE NUMBER and Cris or I will get straight back to you to answer any further questions OR arrange payment and delivery.