Leonard Nimoy Leaves Legacy Beyond Science-Fiction
Leonard Nimoy didn't just leave a lasting impression on the science-fiction world, he also left his mark on science itself. He influenced careers and almost highhandedly sanitized the 'alien' character in sci-fi drama.
Seth Shostak, who researches the possibility of real-world extraterrestrial life as the senior astronomer at SETI Research, recalled that Nimoy was regularly willing to lend the organization a helping hand. When he was asked to narrate a planetarium introduction or appear as a guest at an event, Nimoy did so graciously and never charged.
"That struck me then, and it strikes me now," said Shostak. "If you play a famous alien, you might have little interest in how science is searching for real aliens, but Nimoy was actually interested in the science — and he was always willing to help us out."
Remembrances poured in from beyond the entertainment spectrum after news spread Friday about the death of the 83-year-old actor, who played the half-alien, half-human Spock in "Star Trek" films, TV shows and video games. NASA, Virgin Galactic, Intel and Google all sent messages, as did other groups motivated by Nimoy and his role as the truth-seeking science officer.
"Leonard Nimoy was an inspiration to multiple generations of engineers, scientists, astronauts and other space explorers," said NASA administrator Charles Bolden. "As Mr. Spock, he made science and technology important to the story, while never failing to show, by example, that it is the people around us who matter most."
NASA posted a photo online taken in 1976 of Nimoy and his "Trek" cast mates in front of NASA's real-life space shuttle Enterprise, parked outside the agency's manufacturing facilities in Palmdale, California.
Samantha Cristoforetti, an Italian astronaut aboard the International Space Station, similarly tweeted her condolences from space.
"Live Long and Prosper, Mr. #Spock!" she wrote.
Don Lincoln, a senior physicist at Fermilab, said he was inspired to go into science not just because Nimoy's portrayal of the logical Mr. Spock but also because of "In Search of…," the curious 1970s TV series hosted by Nimoy that was dedicated to mysterious phenomena.
"Despite the fact he worked in fiction, anyone who can inspire that many people to look into the sky and wonder has done something really important for mankind," he said. Lincoln noted that "Trek" and the character of Spock, armed with his Vulcan nerve pinch and phase set to stun, provided the world with a dynamic look at someone interested in science.
"The fact is that Spock was a cool geek," said Lincoln. "Scientists are not always portrayed as being very strong. Usually, they're the guy with the tape on their glasses and their pants too high. He was clearly a person who had desirable components beyond just being smart."
Nimoy's commitment to astronomy frequently warped from beyond the Alpha Quadrant and into the real world. He and his wife, Susan, donated $1 million to the renovation of the iconic Griffith Park observatory complex overlooking Los Angeles. The observatory's theater is named after Nimoy.
"Mr. Nimoy was committed to people, community and the enlarged perspective conferred by science, the arts and the places where they meet," the observatory said in a statement. "The theater honors Nimoy's expansive and inclusive approach to public astronomy and artful inspiration."
The actor, director and photographer narrated several films focusing on astronomy, including a 2012 short film about NASA's Dawn mission and the 1994 IMAX documentary film "Destiny in Space." "All I can say is if and when we pick up a signal, it'll be wonderful if the real aliens are half as appealing as Mr. Nimoy was as Spock," said Shostak of SETI Research. Source: ABC News
 Buzz Aldrin: Leonard Nimoy, My Fellow Space Traveller
I was saddened to learn of the passing of Leonard Nimoy, a fellow space traveler because he helped make the journey into the final frontier accessible to us all. Nimoy's Mr. Spock in the original "Star Trek" television show, followed by the series of movies, proved to be a seminal, enduring and endearing character.
While the late Neil Armstrong's "one small step for man," as we began our exploration of the Moon back in July 1969, is ageless, so, too, is Spock's iconic "live long and prosper," a phrase that also spans time and space.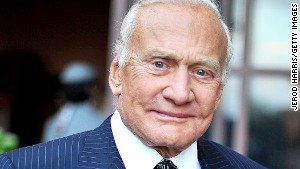 It brought out the Vulcan in all of us; that, for me, translated into a peaceful progression of exploring the vastness of outer space for all mankind.
Nimoy's quite logical and always calm Spock struck me as an ideal person to have with us onboard a spaceship headed into the unknown. I also admit to being jealous of how much room was available on the USS Enterprise — far from the cramped quarters allotted space travellers of past, present and future!
Leonard's final communiqué to his fans read: "A life is like a garden. Perfect moments can be had, but not preserved, except in memory," followed by "LLAP," the acronym for live long and prosper.
For all of us, Leonard Nimoy is in our collective memories as a passionate, inspirational and creative soul who beamed us all up on an enterprising voyage of exploration and discovery.
Be assured, there is a great need to reaffirm our country's space exploration goals. Thanks to Mr. Spock, the stage is set — in more ways than one — to continue our voyage outward into deep space. During the next few years we must choose whether we rebound as a vibrant nation leading our global civilization toward a permanent presence beyond Earth, or relinquish American leadership in space.
I recently testified before Congress, and in my opinion, there is no more convincing way to demonstrate American leadership for the remainder of this century than on July 20, 2019, the 50th anniversary of our landing on the moon, to commit to and strive toward a permanent human presence on Mars.
Indeed, there are strange new worlds to explore — to seek out new life and start new civilizations. It is time to boldly go where no man — or woman — has gone before. Thanks to Leonard Nimoy and his beloved Mr. Spock, the bar has been set high for us to continue humanity's quest to probe outward in the universe. CNN