Secrets Of The Universe
Help inspire a greater appreciation for scientific discovery through a new 3D IMAX/Giant Screen film. Secrets of the Universe is a film project for modern giant screen theatres.
SECRETS OF THE UNIVERSE aims to capture the excitement and ground-breaking science unfolding at the Large Hadron Collider at CERN–one of the largest scientific enterprises ever undertaken by humankind.
This amazing program explores the most fundamental laws of nature under investigation at the LHC in Geneva, Switzerland. Get set for a great adventure! The film will utilize live-action footage filmed at the LHC, stunning scientific visualizations, and artistic interpretation to reveal some of the most compelling scientific stories of our time — including the discovery of the elusive Higgs boson.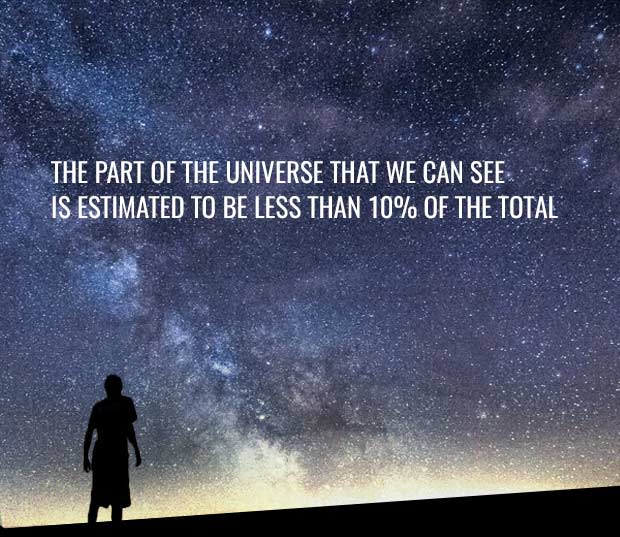 Furthermore, science literacy is at an alarming 30% in the U.S. Through this film, we aim to re-energize and refocus the collective conscious on the value of cutting edge scientific advancement. In order to achieve this, we invite you to the most extraordinary research lab on Earth.
Win A FREE Trip
The studio behind SECRETS OF THE UNIVERSE is sending you and a friend to Switzerland. This includes free travel and a 2-night stay, during which you'll take a VIP tour of the CERN facilities, where physicists and engineers are probing the fundamental structure of the universe.  (Schedule subject to availability.)Here is the contest link to the entry form:
http://on.fb.me/1P0REQU
. This link will take you to a Facebook tab
The Large Hadron Collider
We begin our film a tiny fraction of a second after the Big Bang that spans the unfolding cosmos to present day. We transition 300 feet underground to the most extraordinary research lab on Earth: the Large Hadron Collider, 17 miles in circumference, representing billions of dollars of investment and years of work by thousands of scientists.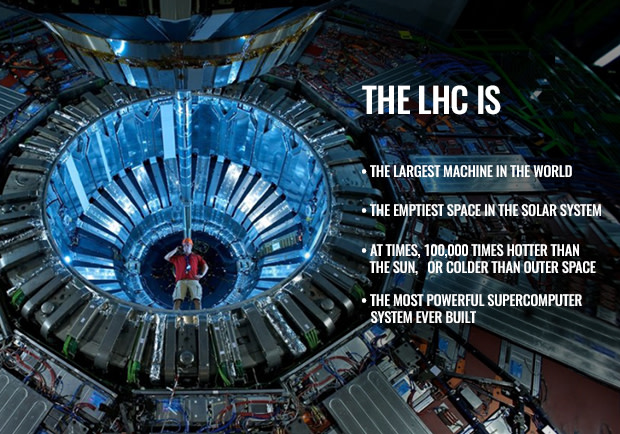 It is an extraordinary tool for the exploration of the unknown, including what happened in the Big Bang, how particles have mass, the nature of dark matter, and more. These fundamental questions being asked by CERN physicists have challenged the human mind for centuries.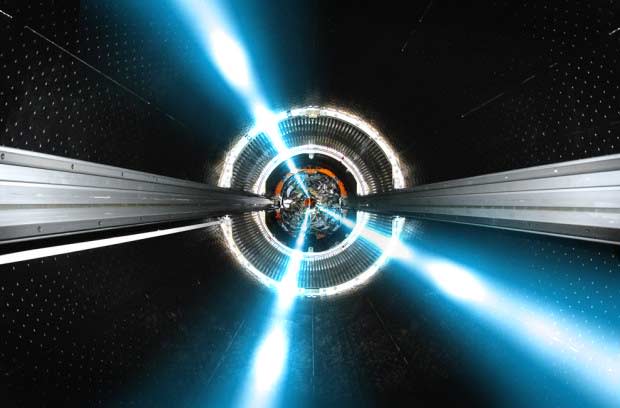 For the first time, Giant Screen film audiences will be given an insider's view of this colossal research laboratory as our cameras fly through the massive collider tunnel, providing a kinetic giant screen encounter with this amazing tool of science.
The Mission
Our goal is to elevate the status of science by increasing scientific literacy and inspiring the pursuit of an education and/or career in STEM (Science, Technology, Engineering, and Mathematics) through exploring the amazing discoveries found in the world of particle physics.
We aim to make science more approachable to the general public. As such, we will support the underrepresented groups in physics as a whole, namely women and minorities, as well as provide youth with a greater science understanding.
In order to accomplish this, we'll provide audiences with an insider's view of this colossal research laboratory as our cameras travel the massive collider tunnel, capturing the immensity only IMAX and Giant Screen Theaters can represent.
With the help of spectacular CGI animation, the film will visualize the discoveries of the team at the LHC and explain in layman's terms their importance and implications for humanity.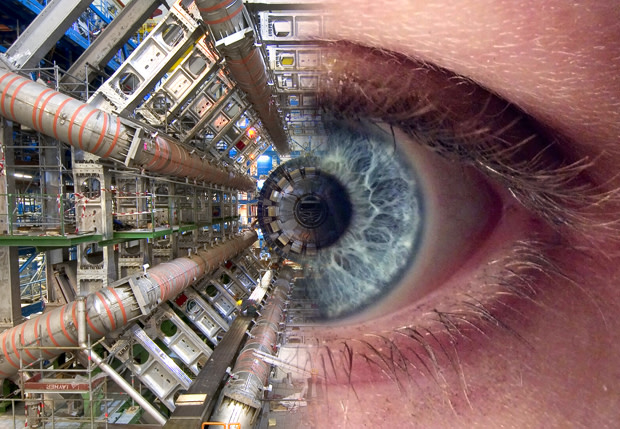 crafted to engage our imaginations and fuel curiosity, we learn that the LHC is so powerful it can help us to see into the very makeup of the cosmos. What will we learn? The possibilities are endless.
Why We Need Your Help
he NSF grant will aid in the production of a 2D 24-minute featurette, but reaching our goal on Indiegogo will allow us to shoot and release Secrets of the Universe in 3D. We aim to exceed that goal in order to produce a full-length feature film for IMAX and other Giant Screen theaters in 3D and 2D to a much broader audience, allowing us to enable a greater understanding from the general public and acquire support and progress in the scientific community.
Global Distribution
A world premiere of Secrets of the Universe will occur with the initial release of the 40-minute Giant Screen film in a major media market; launch events will occur in other markets as the film rolls out over a 3-5 year period worldwide.
We are thrilled that the following museums and science centers agreed to be official theater advisors as part of our successful NSF grant application. We will greatly benefit from their support and guidance as we produce and release the film: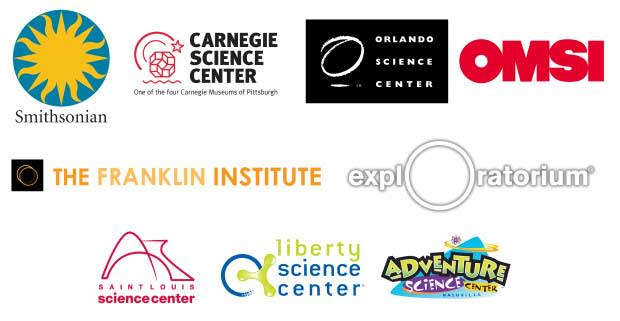 In addition to its science center partners, K2 will market the film to the broader Giant Screen and museum theater network on a staggered basis, directly to its network of film buyers and at a series of annual conferences and trade shows.
The theatrical marketplace for science-oriented documentaries has been rapidly expanding in recent years. In particular, museums and science centers have been opening smaller digital 3D theaters to show digital versions of Giant Screen films, while "full dome" planetariums with new digital technology have begun to show Giant Screen films converted to their format. In total, based on our past film performance, we expect Secrets of the Universe to be shown in over 150 of these types of theaters.
An average film in K2's catalogue has been licensed to more than 50 countries worldwide on TV, over a 5 to 10 year period, including several outlets in the U.S. Based on historical performance of its catalogue, K2 can reliably project an estimated 350 million viewers worldwide for Secrets of the Universe in theatres, on TV, and through other media over the first 5 years.
Promotion and Marketing
K2 will support the launch of the film with a national PR campaign, augmented by local PR efforts of theaters. K2 will produce an extensive package of marketing materials to include posters, banners, standees, window clings, billboard designs, press kits, trailers, and TV/radio spots.
As with its past four films, K2 will utilize YouTube, Facebook, and Twitter to announce film openings, events, and free ticket opportunities. The film release will also be promoted through a series of media events and film screenings at targeted locations in the U.S. and around the world.
CERN physicist Rolf Landua will fly from Geneva to speak at partner theater openings, as will Manuel Calderón de la Barca Sánchez, Deborah Berebichez, and Dianna Cowern. K2 will also assist theaters to recruit local physicists to speak at film events and science cafes produced by the museums. In addition, the Giant Screen film will be supplemented by a digital media campaign, featuring a digital hub website, plus a digital channel with original short-form shows and curated video submissions from a variety of sources on related subject matter to be syndicated over the web.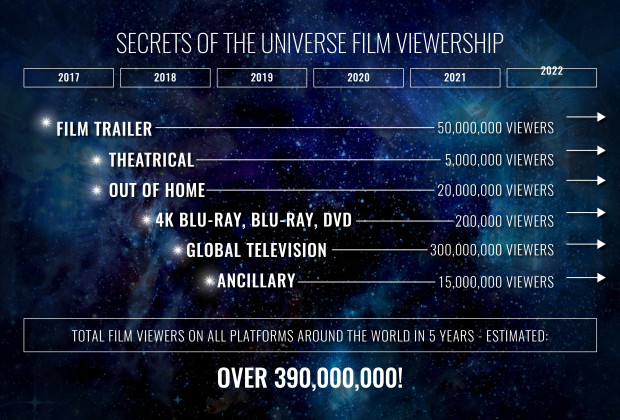 This related content would serve to promote the film itself, as well as independently delivering the project's messages in alternative formats to additional audiences.
Where The Funds Go
Rewards
Join The Team
Scientists from around the world will share their passion of discovery and describe their ambitions. We'll see the parallel between science and imagination as they collaborate with CGI artists to creatively interpret their experiments and discoveries. More info HERE