The Valentich UFO Mystery 35 Years On
Thirty eight years ago young pilot Frederick Valentich flying a Cessna (VH-DSJ) over Bass Strait to King Island on 21 October 1978 disappeared. The plane and pilot were never found.  Melbourne Air Service controller Steve Robey was in contact with Valentich and for 6 minutes heard him describing a strange object – a UFO apparently flying near his aircraft.  The conversation terminated with unusual sounds being recorded over a 17 second period.
For many years, the Valentich family, friends, UFO theorists and the media succeeded only in having a brief summary of the investigation and a transcript of the air-traffic control conversation released. An audio recording of the conversation was released to Valentich's father so he could hear his son's last words – but only on strict instructions it go no further.
Bill Chalker is one of Australia's leading UFO researchers and the author of The OZ Files: The Australian UFO Story and Hair of the Alien: DNA and Other Forensic Evidence of Alien Abduction. Here is the Valentich incident extracted from Bill's oz Files:

Thirty eight years ago during the early evening of October 21st 1978 pilot Frederick Valentich reported in a radio communication with Steve Robey of Melbourne Flight Service that "a large aircraft" which had "a long shape", "a green light", appearing to have a bright metallic lustre and 4 bright lights, travelled variously at high speed, approached his Cessna aircraft, apparently hovered in a stationary manner and also orbited above him.
After six minutes Valentich reported his aircraft's engine was rough idling and the strange object was "hovering and it's not an aircraft." Having indicated his intention was to fly on to King Island Valentich's communication terminated after a 17 second of "metallic" noises. Neither Valentich or the Cessna were ever found. The event became one of Australia's greatest aviation mysteries and the apparent UFO connection remains unresolved. I have researched and written about the events extensively. I described the affair extensively in my 1996 book "The OZ Files – the Australian UFO Story."
The areas that feature prominently in the Valentich incident – Cape Otway (his last land call), Bass Strait (the apparent location of his disappearance) and King Island (his apparent destination), all have extensive precedents for UFO activity. During a two month period centred around January, 1978, holiday makers, fishermen, school teachers, local police and lighthouse keepers in the Cape Otway area reported seeing UFOs.
During July, 1977, local residents and the lighthouse keeper at Cape Otway, saw an inexplicable brilliant light source, that hovered out to sea for half an hour. We have seen in our history that Bass Strait figured in UFO mysteries particularly in 1920 and 1944. The Melbourne "Argus" newspaper even described many people seeing "cigar-shaped" objects flying over Bass Strait as far back as 1896.
King Island's 425 square miles played host to a wave of unidentified nocturnal aerial lights for at least three months prior to Frederick Valentich's disappearance. Oval shaped lights followed cars and mystified local residents. Strange lights or flares appeared off the north of the island. One of the most spectacular close encounters with a UFO in the area, occurred at a wild and uninhabitated part of the King Island coast, near Whistler Point, just before dawn, on April 10th, 1976. "A beam of light" emanating from "a cross-shaped object" approached a duck-shooters car, in a direct line.
The light display, eventually receded directly along its line of approach, ending a silent inspection, when it disappeared over the distant skyline. There is much that suggests a UFO connection but unfortunately a final answer alludes us, preventing the comfort of certainty. Despite the provocative nature of the taped conversation Valentich had with Melbourne Flight Control prior to his disappearance, that refers to a possible UFO presence, the affair still remains a mystery.
The Valentich mystery is punctuated with haunting, or rather more appropriately, taunting clues, that sets one off in all sorts of conflicting directions. Many have come up with all sorts of final solutions, that vary from the bizarre to the sublime. Did a UFO abduct Valentich? Did Valentich contrive the whole affair? Did he, as many think, crash into Bass Strait, leaving no trace? Or are other prosaic explanations involved? A multitude of various lines of enquiry radiate out in all sorts of directions.
Most take us away from the facts of the matter, namely that no trace of pilot or plane have yet been found. The mystery resonates in the Australian consciousness in a place reserved for more mythic episodes like the haunting fiction of "Picnic at Hanging Rock". It has inspired dramatic works like the profound and confronting play "Sky" and the bizarre and striking TV mini-series, "Locusts and Wild Honey". We must remind ourselves that a family waits for an answer that so far has never come. I hope that some day they will find that answer.
Frederick Valentich – 'Truth' Was Out There After All
An accidental discovery sheds new light on the mysterious disappearance of a pilot in 1978.  Unlike a myriad other UFO sightings at the time, the claims of 20-year-old pilot Frederick Valentich could not easily be dismissed as a hoax.  Unlike others who said they had seen strange lights or craft in the sky, Valentich was mid-way through a detailed and recorded description of his sighting when he disappeared forever over Bass Strait.
"It is not an aircraft it is . . . ," an air-traffic control transcript records Valentich as saying at 7.09 and 28 seconds on the evening of 21 October 1978. Valentich was part-way through a seven-minute conversation with Melbourne air traffic control about the craft.  At 7.10pm and 20 seconds, Valentich said: "What I am doing right now is orbiting and the thing is just orbiting on top of me also it has a green light and sort of metallic, it's all shiny (on) the outside."A long metallic clanging sound marked the end of the transmission and the beginning of a long battle to have all records of the disappearance made public.
Now a chance discovery of the official file on the disappearance appears to have eliminated the popular theory at the time that Valentich had staged an elaborate hoax disappearance of his single-engine aircraft.  For 34 years, the Valentich family, friends, UFO theorists and the media succeeded only in having a brief summary of the investigation and a transcript of the air-traffic control conversation released. An audio recording of the conversation was released to Valentich's father so he could hear his son's last words – but only on strict instructions it go no further.
Adelaide researcher Keith Basterfield has been following the case since the disappearance in 1978, but had been told by the Government in 2004 the official file had been lost or destroyed. He "found" it when searching through an online National Archives index on an unrelated topic. The file has since been digitised and uploaded on the archive's website.  Mr Basterfield and others had known the 315-page file – the holy grail in the mystery – existed. It had been seen by one researcher on the desk of a Transport Department official in 1982, as he lobbied him for its release.
Since then, many have sought it doggedly to see which of the many theories on the mystery – hoax, suicide, staged disappearance, drug-induced hallucination or actual UFO sighting – was given credence by investigators.
What is significant about the file, Mr Basterfield argues, is that for the first time it is revealed that parts of aircraft wreckage with partial serial numbers were found in Bass Strait five years after the disappearance.  Mr Basterfield says Valentich's aircraft serial numbers fell within the range of those found on the wreckage, almost eliminating the theory that the pilot staged his disappearance on the way to King Island.  "There was a lot of public speculation at the time of a hoax disappearance but there is nothing in the 315 pages that even suggests that," he says. He says transcripts and notes of extensive interviews with those who knew or were related to Valentich, doctors and colleagues virtually eliminate the possibility of suicide.
Most significantly, investigators leave the possibility of a UFO encounter open. Mr Basterfield points out it was investigators, not Valentich or the media, who took the pilot's description of the object and labelled it an Unidentified Flying Object.  UFO theorists also will take heart in one document on the file, which shows that for the first time the head of the Transport Department took the possibility of a UFO encounter so seriously, he suggested his Minister ask the Defence Minister to launch an investigation into the possibility.
"I have read about 20,000 pages of government reports on UFO files and I have never seen such a suggestion," Mr Basterfield says.  In 2004, Mr Basterfield admits to putting the Valentich search on the backburner after a Freedom of Information request was refused because the file had been lost.  He has now discovered the file remains open, long after it had been thought closed in 1983, and the Federal Government has given a commitment to release it to him.
Mr Basterfield, an expert researcher of public documents, says he does not believe in UFOs, nor does he believe the file was covered up. Instead, he says that when asked to choose between a public service stuff-up or a conspiracy, people should opt for the stuff-up. "Put simply, many people within a department will have no idea how their filing system works and where files end up," he says.
Those interested in reading the 315-page official file still need to go out of their way to find it, however, via a seven-step process outlined by Mr Basterfield, which he perhaps charitably denies is another attempt to hide information. He says: 1. Go to National Archives of Australia. 2. Click on search the collection 3. Click on Begin your search 4. Up comes RecordSearch 5. In the keywords box type VH-DSJ 6. Up comes this file 7. Click on the View digital copy icon.  "The only thing we can say for sure is that the plane and pilot disappeared while he was describing a UFO – which is one of those things that just makes people wonder," Mr Basterfield says. Source: Scott.Net
Valentich – A Step By Step Storyboard Reconstruction by VUFOA
As recognition of this event, VUFOA present a video tribute about the disappearance. It tells the story of his day leading up to the dramatic event he experienced.You can Find VUFOA on FACEBOOK

CAN YOU HELP? The Valentich Mystery
1978-2016
Thirty five years ago young pilot Frederick Valentich flying a Cessna (VH-DSJ) over Bass Strait to King Island on 21 October 1978 disappeared.  The plane  and pilot were never found.  Melbourne Air Service controller Steve Robey was in contact with Valentich and for 6 minutes heard him describing a strange object – a UFO apparently flying near his aircraft.  The conversation terminated with unusual sounds being recorded over a 17 second period.
A wide search failed to find any conclusive evidence.  In 2012 the Department of Transport file on the event was finally released, providing information for a wide range of conflicting theories, but the hard verifiable facts show the disappearance of Frederick Valentich and the Cessna is still a mystery for which we have no certain answers.
It remains one of the major aviation mysteries of Australia and for many one of its most striking UFO mysteries. Researchers George Simpson (who worked closely with a recent Discovery Science reinvestigation, aired during September this year) and Bill Chalker (author of "The OZ Files – the Australian UFO Story" and the first researcher to have comprehensive access to the RAAF UFO files back in 1982-1984) are investigating some unusual information that if confirmed may help resolve this enduring mystery.
They want to hear from farmers either from South Australia, southern New South Wales or Victoria who may have witnessed a UFO in proximity with a Cessna light aircraft during the period of October 21 to 24 1978. Contact George Simpson or Bill Chalker if you have any information that might help in their investigation at aufornvic@optusnet.com.au or billozfiles@tpg.com.au    The Valentich links:http://theozfiles.blogspot.com.au/2008/10/valentich-ufo-mystery-after-30-years.html  http://theozfiles.blogspot.com.au/2012/06/valentich-file-revealed.htmland http://theozfiles.blogspot.com.au/2013/10/strange-days-strange-tales-valentich.html
Army Helicopter's UFO Scare Still A Mystery, 43 Years Later
Forty years ago today, a four-man crew of an Army Reserve helicopter was flying over Mansfield, Ohio, around 11:00 p.m. when they "encountered a near midair collision with an unidentified flying object," according to the official report, signed and submitted by the crew after the incident. A full explanation for this terrifying UFO close encounter has never been offered, and to this day, the helicopter-UFO incident remains one of the most credible — and terrifying — in the history of the subject.
The commander of the helicopter, Maj. Larry Coyne, and his crew, thought at first that the light on the horizon was a radio tower beacon. "We were flying along at about 2,500 feet when the crew chief on the helicopter observed a red light on the east horizon. He then informed me that the light was closing on the helicopter — that it was coming at us on a collision course," Coyne told this reporter in 1975.
"I looked to the right and observed that the object became bigger and the light became brighter, and I began to descend the helicopter toward the ground, to get out of the collision course path. We were descending and this object was like a missile locked onto the helicopter, only it came at us on a perpendicular angle, to hit us almost broadside.
"It looked like we were going to collide with it and we braced for impact, and then I heard the crewmen in the back say, 'Look up!' and I observed this craft stopped directly in front of us — stopped — it was hovering, right over the helicopter!" (See main story illustration above)
Watch this video excerpt of the Coyne account from a documentary report. The story continues after the video.
With the unknown object hovering in the air above the helicopter, Coyne and his crew suddenly noticed a light coming out of the aft end of it — a light that swung 90 degrees and came into their cabin. "It was a bright green light. And all of the red night lights that we utilize for night navigation were dissolved in this green light — the whole cabin turned green. It hit all of us directly in the face."
Coyne and his crew knew they were encountering something extraordinary. "We assumed it was a high-performance fighter, but when it stopped directly in front of us, then all four of us realized that was no high-performance aircraft. This craft, from the angle that we saw it, was cigar-shaped. It had no wings, no vertical or horizontal stabilizer, was approximately 60 feet long, 15-20 feet in height."
What occurred next was like something out of science fiction. "We were at 1,700 feet," Coyne recalled. "Then this craft began to move slowly to the west away from us. At this time, I was worried we were going to hit the ground, and I looked at my altimeter and our helicopter was at 3,500 feet, climbing 1,000 feet a minute with no changes in the control. We went from 1,700 feet to 3,500 feet in a matter of seconds and never knew it!"
The helicopter topped out at 3,800 feet and the four men felt a bump, "like turbulence, at which time we had control of the aircraft again. I had control and we went back down to 2,500 feet and then continued on to Cleveland," Coyne said.
"As far as the vehicle itself, there's no doubt in our minds what it looked like. A craft that can move at terrific speeds in excess of 1,000 knots, and then stop on a dime, maintains altitude, can change altitude, climb, descend. To encounter a UFO when it approaches your aircraft, you have no idea what it is. I think if it wanted to collide with us, it could have. You can't get away from it — you don't have that much time to respond!"
Lending credibility to this case were eyewitnesses on the ground who observed the UFO-helicopter encounter. The Army didn't prevent Coyne and his crew from speaking out about their experience. In fact, Coyne was allowed to recount the UFO incident to the United Nations in 1978, as seen below, under the sponsorship of Grenada.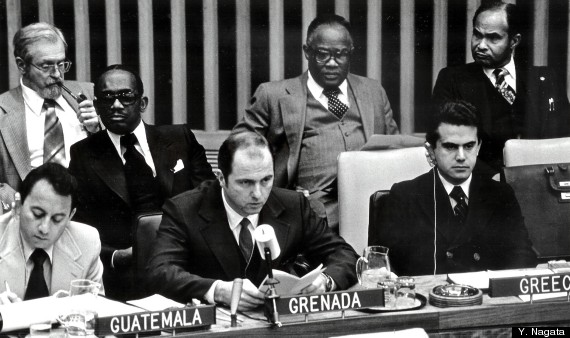 This 1973 UFO incident, while certainly dramatic and terrifying for the helicopter crew involved, is not the only time that conventional aircraft have had encounters with unknown objects. Many crew members of major airlines have witnessed unusual objects near their aircraft but have been reluctant to tell their stories publicly.
In 1999, Richard Haines, a retired senior research scientist for the NASA-Ames Research Center in California, created the National Aviation Reporting Center on Anomalous Phenomena, or NARCAP, to give pilots and air traffic controllers a confidential place to report their own unusual sightings of what Haines refers to as unidentified aerial phenomena, or UAP.
"We have two objectives: To make flying safer with regard to unidentified and poorly understood phenomena in the atmosphere. And the second objective is to collect, analyze and then report high quality data from the aerospace world on the phenomena, to help us understand them better," Haines, 76, told The Huffington Post.
According to Haines, on an average daily basis, since the creation of NARCAP, he's received six to 12 reports a year. He absolutely believes there are real dangerous or safety issues that come up between pilots and some UAP.
"Based upon analysis of past cases, a potential for a very serious event does exist," Haines said. "We have reviewed a great many encounters in flight where several things can happen. One of them is an electromagnetic effect in close proximity to the phenomenon, where cockpit instrumentation are affected — it might be a magnetic field, radio interference or even an inertial effect, and that's obviously unsafe. Pilots don't want to be flying airplanes where they can't trust their instruments."
Another area of concern that Haines and his colleagues have found is similar to what Coyne and his helicopter crew experienced in 1973.
"It's where a UAP is near the airplane, perhaps ahead of the plane, and the pilot makes a rapid emergency dive to avoid a perceived collision. That's not very common, but it would have to be reported. It has happened in the past and there are still near-misses that occur which sometimes are associated with a nearby UAP."
Haines has always been impressed with the Coyne helicopter incident. "It qualifies as a genuine UAP encounter. Multiple witness cases are very important and should command the attention of aviation officials. In the Coyne case, its color, speed and apparent shape — those are all important physical characteristics that can be related to other pilot sightings.
"I think the Coyne case ranks very, very high in credibility. One reason is Coyne's reputation as a good pilot before this happened. And his courage — the fact that he was willing to come forward with this very bizarre story and to stand by it says an awful lot. And he would give encouragement to other pilots to do the same. "If everybody remains silent, we're never going to get to the bottom of this." Source: Huffington Post